Become a Kite Surfing Instructor
Are you an adrenaline junkie? Would you enjoy being pulled by a kite over waves and doing flips 10 to 20 feet in the air? This is what a kitesurfer does. Kitesurfing is a growing sport that takes place in waterfront towns all over the world.
Most people can't just go out on the water and learn to kitesurf. They need to seek the professional guidance of a kitesurfing instructor. Kitesurfing instructors teach people of all abilities how to kitesurf. It's an amazing job that is outside, on the water, and in the air.
Kitesurfing instructors are expert kitesurfers. Kitesurfing is second nature to them.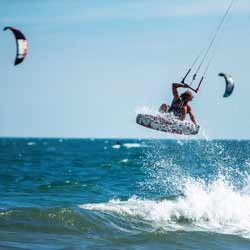 They know all about kites, boards, water, surfing, and teaching. They instruct people from beginners to experts on the skills necessary to excel at this adrenaline pumping sport.
Every kitesurfer starts as a novice with a desire to learn this water sport. The best way to learn any sport is through proper instruction to ensure that you learn it properly. Kitesurfing is both an athletically challenging and equipment intensive sport that pushes the limits. It is very important that you learn everything you can about kitesurfing before you go.
Kitesurfing instructors teach people about the equipment – flying lines, control bars, kite harnesses, kiteboard, wetsuits, safety knifes, helmets, PFDs, impact vests, leashes, and other things. They reinforce safety rules like the kite high rule, clearance rule, or starboard rule. They show you how to read water depths, waves, and wind direction. They instruct you on how to control your kite. They teach tricks – looping, grabs, jibbing, or jumping. They help you earn certifications and expand your overall knowledge of the sport. All of these things are important to your success as a kitesurfer.
If you seriously want to become a kitesurfing instructor you need to be comfortable in the water. Take a lesson, which can run $200 to $500 per day. Learn all the basics and develop your skills. Become certified by International Kitesurfing Organization (IKO), the British Kitesurfing Association (BKSA), or the Professional Air Sports Association (PASA). The most recognized certification worldwide is the IKO certification. Certification operates similar to diving certifications like PADI or NAUI.
For the career path, you need to be 18 years old, able to do controlled turns, ride switch, maneuver the waves, have a valid first aid certificate, and have a powerboat license. Accomplish this and you are eligible to take the International Kitesurfing Organization's Level 1 instructor course. The instructor course covers the IKO system, teaching methods, technical understanding, physics of kiteboarding, skills, and teaching assessments. It is a challenging course, but molds you into a professional instructor.
As your skills progress the IKO offers several professional level certifications – assistant instructor, Level 1 and Level 2 Instructor, Instructor Level 2 Senior, Examiner, and Training Master. Each levels means more job opportunities and more pay.
To climb these ranks log your hours and continue to improve.
An IKO instructor can find work all over the world or close to home. Kitesurfing has become a large destination sport. Hotspots like Hawaii's Kailua Bay, Spain, and the Maldives are great places to look for work.
The best months to work are the summer months, making this a perfect compliment to winter snow sports instructing jobs. Most kitesurfing instructors make about $35 per hour, but this depends on the cost of living where you work.
Kitesurfing grows in popularity every year. This means a growing job field. Now is the perfect time to learn and master this sport. The sooner you become a kitesurfer, the better. It's a rush.
Quick Facts About Teaching Kitesurfing
Job Title: Kitesurfing Instructor
Office: On the water
Description: Teach people how to kitesurf around the world
Certifications/Education: IKO, PASA, or BKSA instructor certification
Necessary Skills: Strong swimmer, knowledge of water, wind, kitesurfing
Potential Employers: Kitesurfing schools and shops
Pay: $35 per hour, depends on location
Helpful Kitesurfing Instructor Employment Links:
Search Kitesurfing Instructor and Other Instructor Jobs on JobMonkey
International Kiteboarding Organization
Destination Kiteboarding
Professional Air Sports Association
Kiteboarding Magazine
British Kitesurfing Association
United States Kitesurfing Association