Windsurfing Instructor Jobs
One exciting job that you can get at a resort is that of a windsurfing instructor. Most resorts are based near to beaches and offer water sports as a main attraction. Windsurf instructors are an integral part of ensuring the success of these water sport activities. As an instructor you need to be able to teach children and adults how to windsurf, give them pointers about using the board and other equipment, give them safety talks, and provide a fun, secure environment in which they can have a great time.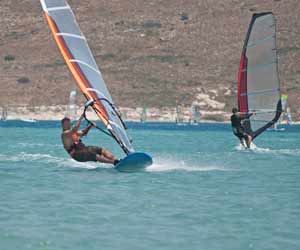 There are plenty of windsurf instructors around the world, and you will have the opportunity to travel as you work, making this is a very appealing career path. You could be sent to Greece, Spain, Barbados, the Seychelles, or any beachfront location to enjoy the surf doing what you love and still make money at the same time.
One windsurfing instructor shares his thoughts,
"The best part of my day is watching people do something that they never thought possible, and see how much they are enjoying it. It is amazing to think that I am the one who taught them how to develop a love for this sport."
Quick Fact: Children from the age of 3 can start learning to windsurf.
Job Responsibilities
The day to day duties of a windsurf instructor extend beyond simply teaching people how to windsurf. Other jobs that you will have to perform include maintaining the equipment and ensuring waterfront safety, as well as that of all the guests. Those taking lessons must feel safe with you leading them, so you must instill a sense of confidence in them and be as warm and friendly as possible. You will also have to tidy and clean the waterfront area and all the equipment each day.
You will have to follow the Standard Operating Procedure which will stipulate the manning of the customer service desk or windsurf shop as well as offering safety insurance for guests should they require it.
If you work under a Waterfront Manager or Head Instructor you will have to assist with the planning of any Race Events and tournaments. You will also have to attend events and social functions with the guests as part of the staff and also attend some evening meals with the guests.
Admin work includes attending meetings, filing reports, and keeping financial records which will be given to the Waterfront Manager or Activity Head. You must help to write the lesson plans and also prepare lessons in case of bad weather.
Did You Know? About 2 million people worldwide have a Basic Windsurfing License.
Job Requirements
Being an active outdoor position, windsurfing instructors will be required to be physically fit, not only to teach lessons over and over all day, but to make sure the carrying, lifting and rigging of equipment is all done properly.
You must be a fully qualified Windsurf instructor in order to work at a resort, and this certification must accompany a CPR and First Aid certification as well. In some cases, the resorts will want to check your Basic Card which will show that you are a licensed windsurfer and that you have the credentials and knowledge to get a windsurfing job. Some resorts like to know that you were a serious competitor in the sport and producing some medals or trophies is always positive.
You will also need to be well spoken, engaging, and friendly. You must be a good teacher and have a professional manner at all times. This is an important aspect that resorts and hotels look for when hiring, as they want to see how well you connect with people as well as how well you can surf.
Salary & Benefits
At a resort, it is fairly well known that you will not get rich fast. It is more about the enjoyment and passion you have for windsurfing and teaching others to do it. You can expect to earn about $200 per week in an entry level junior position, but you must remember that your accommodation is normally paid for and provided as well as meals and you can take advantage of some other resort benefits.
The more experience you gain over time will see your salary increase and you will be able to move on from the junior positions to the senior or lead instructor.
Quick Summary:
Windsurf instructors are required to clean and tidy as well as teach.
An instructor can expect to earn about $200 per week just starting out.
You must get your windsurfing instructor certificate and be licensed to get a job.