Ballroom, Jazz, and Tap Dancing
Ballroom dancing generally refers to a set of partner dances that are performed either socially or competitively. Originally recreational in nature, each dance is performed in pairs or sequential formations. Competitive ballroom dancing, also known as dancesport, has more rigorously defined the categories of ballroom dance into International Standard/ International Latin or American Smooth/American Rhythm dances.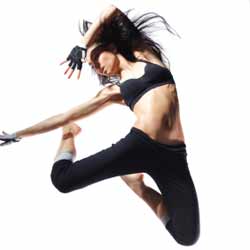 Ballroom dance began as a form of social recreation among the privileged classes. The term "ball" comes from the Latin word "ballare", meaning, "to dance". Ballroom dancing is an umbrella term that includes the following dances: Waltz, Tango, Foxtrot, Viennese, Quickstep, ChaChaCha, Samba, Rumba, Jive, Paso Doble, Bolero, Mambo and East Coast Swing. The term can also include nightclub dances, such as: Salsa, Merengue, Lindy Hop, and West Coast Swing. Couples perform some forms of ballroom dancing by moving counter-clockwise in a rectangular dancing area, while others are performed mostly in one place.
Today, ballroom dancing is enjoyed in nightclubs and ballroom dancing schools and studios across the country. Ballroom dancing lessons have become extremely popular and can be a great way to meet people and stay fit (and they are more fun than going to the gym).
Jazz Dance
Jazz dance is a huge factor in every production on Broadway and musical theater. With its lively, energetic moves and tempo, it's easy to see why. Modern jazz dance, as we know it today, emerged from both African American and Caribbean traditional dances, becoming an important social and concert dance style. Jazz dances such as the Cakewalk, the Charleston, the Jitterbug and Boogie Woogie later became trendy social phenomena.& After the 1950s, jazz dance became a performing art on Broadway. Choreographers such as Bob Fosse brought us Chicago and Cabaret, and Jerome Robbins created The King and I, Fiddler on the Roof, and West Side Story. Today jazz dance remains an essential part of musical theater.
Jazz dance technique is heavily influenced by ballet, as well as other styles, including hip-hop and other contemporary dance forms. In general, it is an informal, yet very energetic form of dance. The "jazz walk", a personalized, heavily stylized walk, and body contractions are some of the prime components that define jazz dance. Jazz dance is also quite physically demanding, with huge leaps and high kicks that require "center control", or a very strong mid-section.
Tap Dance
Tap dancing shoes, which contain metal plates on the heel and ball of the shoe, which create a percussive sound when tapped, hit, or slid on the ground are the defining feature of tap dance, and in a way, tap dancers are musicians, too, since the sound they create while dancing either adds to the music, or, if the dancer is dancing a cappella (without music) it is the only sound heard.
Tap dance traces its roots to English clogging, Irish step dance, African dance, and flamenco dance. During the 1930s, 1940s and 1950s, tap dance moved from vaudeville shows to cinema and television.
Popular stars such as Fred Astaire and Ginger Rogers, Shirley Temple and Gene Kelly all contributed to its rise in popularity.
Tap dancing often involves improvisation, where dancers make up their own combinations of steps. Common tap steps include the shuffle, shuffle ball change, flap, flap heel, buffalo, Maxi Ford, single and double pullbacks, wings, Cincinnati, the shim sham shimmy (also called the Lindy), the paddle and roll, stomp, brushes, scuffs, and single and double toe punches, hot steps, heel clicks, single, double and triple time steps, riffs, over-the-tops, military time step, New Yorkers, and chugs.
Today's Broadway style of tap dance is the most common form taught in tap dance classes. Female dancers typically wear high-heeled tap shoes, and the dances are performed to Broadway show music classics, such as 42nd Street.