Learn to Pole Dance and Zumba
Pole Dancing
Whether you are interested in pole dancing for fitness, or you want to learn a few pole dancing moves or pole dancing tricks, pole dancing has made great strides from its humble beginnings as entertainment in strip clubs and gentlemen's clubs to become a recognized and respected form of physical exercise. Pole dancing combines the art of dancing with gymnastics and acrobatics, either with or without a sensual edge, depending on where and under what circumstances it is performed. It requires flexibility and great physical strength, especially in the upper body. Pole dancers can choose to pursue pole dancing for its athleticism, or go full-throttle and dress in sensual costumes and pole dancing shoes (usually stiletto heels).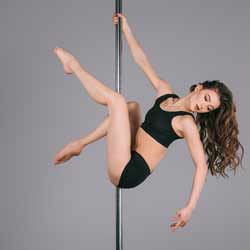 The pole is vertically attached to the floor or floor and ceiling, and used as a prop. It is a circular, hollow pole, approximately 5cm in diameter, making it easy to grasp in one hand. There are both commercial and home versions available, in a variety of finishes from stainless steel or brass to fancy transparent acrylic versions, complete with LED lights running through them. Poles can either be stationary, or spin on the vertical axis.
Dancers use the pole as a prop, holding it with one hand and spinning, or using it to climb and pose. The dance can also be combined with a striptease or go-go dance. It is free-form dancing at its finest, with more advanced moves including upside down poses, splits, holding the body at horizontal angles, and revolving poses.
If you want to learn pole dancing, pole dance classes are now being offered in dance studios, gyms, and specialty studios such as Sheila Kelly's S Factor. If you would rather learn pole dancing at home, you can buy a dance pole for your home, either a permanent or removable dance pole. There are lots of home learning tools, such as pole dancing DVDs, pole dancing books, and pole dancing private lessons. Pole dancing parties have also become quite popular.
If dressing up is your thing, then you might want to go shopping for some exotic clothing and put together a few exotic outfits. Exotic dancewear, such as go-go shorts, fishnets, gloves or clubwear are all good choices. Some pole dancers prefer exercise clothing or dance apparel for greater comfort. Many enjoy the opportunity to wear exotic lingerie or other fun costumes.
Zumba
Zumba is a new dance fitness method that takes Latin rhythms and combines them with easy-to-follow aerobic dance moves and interval training. Zumba was created by accident by celebrity fitness trainer "Beto" Perez, a native of Cali, Colombia. One day, Perez arrived to teach aerobics class, only to realize he had forgotten his music. He quickly grabbed whatever he had in his backpack, which happened to be a compilation of the traditional music favorites that he had grown up with, including salsa, merengue, cumbia and reggaeton. The class was so successful that he began teaching it regularly.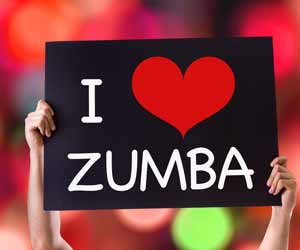 Zumba class quickly caught on, and was introduced in the United States in 2002. There are now classes offered worldwide for all age groups and levels, as well as instructor certification workshops. For those who prefer a home fitness workout, Zumba fitness DVDs might just be the best workout video you've been searching for.