Natural Energy Jobs Overview
Thanks to current worries about climate change and dwindling global coal and oil supplies, the demand for alternative, renewable energy sources is on the rise.
New natural means of producing clean energy are becoming more popular – and that means that job prospects in the green energy sector are looking good. Don't worry; you don't need a degree in environmental engineering to find work in the natural energy sector.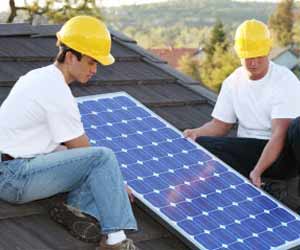 There are myriad jobs in the natural energy field for people from all types of backgrounds and with all types of interests.
From hands-on solar panel installation to wind-field design and NGO jobs, the diversity of work available in the natural energy field offer something for all types of individuals.
Why Should You Look Into Natural Energy Jobs?
Due to environmental concerns and desires to decrease dependence on traditional energy sources like coal and oil, the job outlook in the natural energy sector is looking excellent. According to the Bureau of Labor Statistics, electricity from renewable sources (like the sun or wind) will be one of the fastest growing areas in power production in the coming decade. An article from the Center for American Progress confirms that stronger governmental climate policies will increase the number of renewable energy jobs in the future. If you are looking to enter a career field that is just starting to take off, there is no doubt that the natural energy sector is the place to look. Another reason to consider natural energy jobs? You will be making a positive contribution through your work as you help make the world a cleaner healthier place for the future.
— View Renewable Energy Job Postings —
JobMonkey's natural energy job guide covers all types of green and natural energy employment in a variety of sectors. We've focused on the fields that are the most prominent and are likely to see the most growth in the coming years, including solar energy jobs, wind energy jobs, hydroelectric jobs, bioenergy jobs, natural gas and nuclear energy jobs.
You can find more detailed information about each of these energy sectors, including a preview of possible jobs and information regarding employment prospects, in this guide.
To make it easier for you to navigate the guide and find just the right job to suit your interests, we've divided the jobs listed here into four major categories: Construction, Management, Development, and Assessment and Awareness. Examples of jobs you might find in the "Construction" category are construction supervisor and solar panel installer, while in "Management" you might find jobs like power station operator and climate policy manager. "Development" jobs include positions like energy consultant and environmental engineer. Finally, in the "Assessment and Awareness" category, you'll find jobs like sustainability analyst and meteorologist. For a complete list of all the jobs we cover in this guide, check out the navigation menu at left.
Many of the jobs within each of these four categories are in demand in a variety of natural energy fields; for example, construction workers are necessary for all types of natural energy building projects, whether it's building a dam for hydro-electric power or helping to install natural gas lines. In each job profile you can expect to find all the in-depth information you need to know including details about what the job entails, facts regarding educational and training requirements, and statistics regarding salary information. Also be sure to check out our special topics pages which discuss topics like green building, natural energy jobs abroad, educational options for natural energy careers, and information on how to get your own natural energy career started.