Construction Worker Jobs
Construction Sector
Construction workers help to build a variety of structures including houses, factories, schools, roads, bridges and more. Part of the construction industry also involves maintenance, making repairs and improvements to preexisting structures. Working as a construction worker in the natural energy sector might entail helping to build and maintain hydroelectric dams, wind turbine towers, nuclear power plants and more. The construction industry can be divided into three major groups: building construction, heavy and civil engineering construction, and specialty trade. Heavy and civil engineering instruction involves building sewers, roads, bridges and other infrastructure, while specialty trade construction consists of specialized skills like carpentry, painting and electrical work.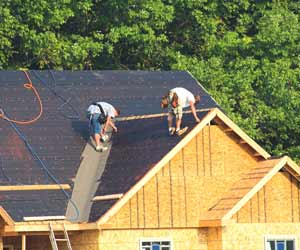 In most cases, construction is coordinated by general contractors who usually specialize in a certain type of construction. A contractor may specialize in major projects, like building dams and bridges, for example. It's also important to note that with the recent "green revolution", a number of contractors have popped up who specialize in "green building" of environmentally conscious homes and condos which include such eco-friendly characteristics as solar panels.
VIEW OUR FEATURED ROOFING EMPLOYER: Nations Roof Roofing Careers
Educational and Training Requirements
It is possible to start a career in construction with a variety of educational backgrounds. Many construction workers begin right out of high school, starting as laborers or apprentices and working their way up as they gain skills on the job. In most cases, additional education helps speed advancement.
Many construction workers with special skills, such as bricklayers or carpenters, receive formal training from a technical or trade school. In most cases, they also receive additional training through an apprenticeship to a more experienced worker. In other cases, an individual may not have formal career training but may join a construction company through an apprenticeship training program which usually lasts from three to five years. Some construction occupations require a license, such as electricians, plumbers and crane operators.
A college degree may be necessary for managerial positions in the construction industry, such as construction manager jobs, although extensive experience in the field can often replace the requirement for a degree. In general, a degree is recommended for those interested in advancing to higher supervisory positions; if you have a degree, you are more likely to start directly as a management trainee or assistant to a construction manager.
Salary and Advancement Opportunities
The job outlook for the construction industry looks excellent, thanks to increased construction needs across the country and an expected gap in the workforce due to retirement. The Bureau of Labor Statics expects the construction job market to grow ten percent from now through 2016. The Bureau cites construction of new power plants as one area where construction needs are expected to increase. According to the Bureau of Labor Statistics, the average hourly wage of construction employees in total is $20.02. It's important to note that this is an average of all construction positions; for example, the average given for construction managers is $35.43 hourly, compared to $12.66 hourly for construction laborers.
Payscale.com reports that a construction worker with one to four years of experience earns an average of $10.13 to $15.97 per hour, while a construction worker with 10 to 19 years of experience earns $13.23 to $24.26 per hour. It is possible for construction workers to advance in their careers, advancing to more supervisory and better-paid positions such as construction manager. According to Payscale.com, construction managers are salaried, earning an average $42,096 to $60,492 with one to four years of experience and an average of $61,739 to $96,536 with 10 to 19 years of experience.