First Solar Jobs
First Solar is a leading manufacturer of photovoltaic modules. Not only is First Solar expanding its operations by building new manufacturing facilities, but it is taking measures to lower its costs.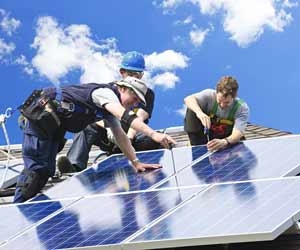 By lowering costs more customers can benefit from the clean energy that its products generate. The company set an ambitious goal to reach a level of 1.1 GW of production by the end of 2009.
The company was founded in 1999 and started production operations in 2002. Since that time, First Solar has implemented measures to bring its production costs down so that its products are more affordable. First Solar's customers are no doubt impressed with the fact that the corporation's products can generate electricity without producing any waste or emissions.
Working at First Solar
First Solar is a rapidly-growing company that is looking for quality candidates for various positions within the organization. People who are interested in working for a company that is at the forefront of the renewable energy industry are invited to submit an application for positions in the United States, Canada, and a number of European countries.
This company offers a number of benefits to workers, including the following:
401(k) Plan
Dental Coverage
Flexible Spending Accounts
Life Insurance
Long Term Disability Insurance
Medical Insurance
Paid Holidays/Vacation
Short Term Disability Insurance
Tuition Reimbursement
Jobs Available at First Solar
The following job titles are examples of the types of jobs that may be available at First Solar:
Administrative Assistant
Business Analyst
Business Applications Developer
Construction Site Manager
Construction Site Supervisor
Facilities Engineer
Lab Technician
Process Development Manager
Project Manager
Wastewater Treatment and Ultrapure Water Technician
How to Apply for a Job at First Solar
All the jobs available at First Solar are posted in the JobMonkey Job Center right now.
Typically, each job posting includes a summary of the job duties, requirements, and other position details.
To apply for a position with First Solar just click on the Apply button to begin the application process.
More About First Solar