General Contractor Jobs
Construction Sector
General contractors are responsible for coordinating construction work projects and are ultimately responsible for getting a full construction project completed. There are two primary types of contractors: residential and non-residential.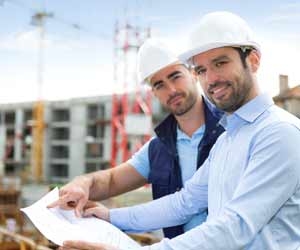 While residential contractors may be responsible for building private homes, non-residential contractors are involved in the building anything from schools and public swimming pools to sewers, bridges and tunnels.
General contractors sometimes work with their own team of construction workers but in other cases they will subcontract construction work to specialty heavy construction crews or specialized trade contractors. Specialty trade contractors focus on only one specific part of a construction, such as the electrical work, carpentry, or painting. For example, a general contractor may take on a large project to build a hydroelectric dam and decide to subcontract the heavy construction work to a construction team, which is supervised by a construction manager. The general contractor may also decide to subcontract a specialized aspect of the job, such as the laying of stones, to a specialty contractor who specializes in mortar, brick and stone work. Ultimately the general contractor is responsible for overseeing that all these various components of the job come together to successfully complete the finished project.
Educational and Training Requirements
It is not essential to have a college degree in order to become a contractor however it is generally preferred and can greatly help when looking for work. Degrees in fields such as civil engineering or construction management are ideal. In addition to formal education, some type of on-the-job training, often acquired through an apprenticeship, is essential to becoming a full-time professional general contractor.
General contractors are also required to become licensed in order to practice in the US, which means taking a licensing exam and renewing your license every year.
Knowledge of green building techniques may be a valuable asset to have as a general contractor in the future. Today an increasing number of contractors are branding themselves as "green-friendly", meaning they construct environmentally friendly buildings, such as homes, condos and public buildings. A green-friendly building might include elements like solar panels and lights that automatically switch off after a specific amount of time if nobody is in the room. Green-friendly condos are a trend taking off in larger cities, and may boast such luxurious amenities as rooftop swimming pools which are heated by means of solar panels. Since more general contractors are striving to meet the demand for green-friendly structures, they are more frequently working with individuals from environmentally-friendly natural energy sectors, such as solar panel installers. If you are interested in pursuing a general contractor career with a natural energy and eco-friendly approach, it would be advisable to be well-informed regarding developments in natural energy and green-friendly building.
Salary and Advancement Opportunities
Career prospects for general contracts, especially general contractors involved in eco-friendly building, will be good in the future. As people have become more environmentally conscious, the demand for green-friendly buildings has increased and will continue to do so. In general, contractors have good employment prospects in coming years, as the Bureau of Labor Statistics reports that the construction market is expected to grow 10 percent through 2016. The Bureau of Labor Statistics reports the average annual salary in the residential contractor industry to be $36,310, compared to $41,460 in the non-residential contractor industry. Payscale.com reports the average wage of construction contractors as a whole, estimating that a contractor with one to four years of experience earns from $36,174 to $69,776 annually, while a contractor with 10 to 19 years of experience earns from $44,557 to $86,973 annually.