Introduction to Volunteering Overseas
The popularity of international living, especially volunteer abroad opportunities, is rapidly growing. Young adults from all over the world, whether they are taking time off before they begin university or after, are packing their backpacks and leaving their respective homelands in droves for destinations in Asia, Africa and Latin America.
Just three years ago, for example, there were 5 major organizations serving Latin America alone; this number is now closing in on 20, with more organizations being created everyday.
Because of this, the volunteer abroad job market has evolved from a few teaching opportunities to a competitive field encompassing every aspect of non-profit work.
While lighter, more travel oriented opportunities do exist (as the popularity of "voluntourism" too has risen), the information here will focus largely on long-term (3+ months), full-time "professional" volunteer placements.
What is Volunteering Abroad?
Volunteering full time with a non-profit can be drastically different from the few hours a week you might be used to from volunteering in your hometown. More and more, international volunteers are fully integrated in their host organizations, providing valuable skills that the organization normally would not be able to afford. Volunteer placements geared towards older, professionals generally have the same skill and experience requirements found on any paid job in the States, and volunteers are expected to submit to the same quantity and quality of work as any employee.
Other opportunities abound for younger volunteers who are looking to develop their skills, and organizations provide the training and support (including language classes) to help them either integrate into existing programs, or in many cases to design and implement their own.
Because of this, volunteers should be fully prepared for their work, and not enter into any long-term commitment lightly. While there is generally little to no financial compensation, in the ever-competitive job market the other skills that you will learn as a volunteer (including the ability to adapt to a new environment and learn a language) are highly valued. In many volunteer programs, volunteers are given the opportunity to be involved in many aspects of their host organizations, which is not always the case in the "real-world" job market. But the life of an international volunteer is as "real-world" as it gets, and most find their time abroad to be life-changing and worth every unearned penny.
In addition to personal benefits, international volunteering opens dialogues and encourages communication between people of different racial and economic backgrounds, creating a forum for the exchange of ideas and cross-cultural awareness.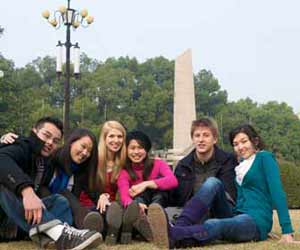 What are the benefits of volunteering outside of your home country?
International volunteering provides a wonderful, fulfilling and challenging alternative to jumping into the desk-bound, suit-wearing workforce, while providing real world experience. There are organizations all over the world who are not only looking for able-bodied, bright volunteers to join their ranks, but who rely on them to reach out to the public to provide quality humanitarian and environmental programs.
While most programs provide little or no direct compensation (and some charge placement fees) the lifelong professional and social benefits often outweigh and financial costs. Benefits include:
Real world experience: As many volunteers dive directly in to their work, they have the opportunity to learn many aspects of the non-profit business first-hand. Almost all volunteers will be involved in fundraising and marketing, as well as program development. More specifically, depending on your program or host organization, the learning potential is endless; from teaching to organic gardening to construction, volunteering teaches skills applicable not only to future careers, but to life in general.
Teaching English as as Second Language: ESL teacher jobs are available at home and abroad. Get started teaching overseas and then apply what you learned back home. Visit our TESL section to learn all about the opportunities.
Language skills: Many see the opportunity to learn a new language as the driving force for working abroad; bi- and multi-lingual professionals are highly sought after. However, most will find that the most important part of volunteering is not learning a language, but learning adaptability. Those who begin volunteering with low language skills will quickly be taught humility, creativity and patience as they attempt to express themselves in a new way.
College Credit/Internship Experience: In addition, college students have the opportunity to earn university credits while working a abroad through student internships or independent study (this can generally be arranged directly with your academic advisor).