Volunteering for College Credit
For those enrolled in university, and college study abroad or internship abroad program can be a way to not only receive credit for your volunteering, but pay for it as well. Particularly in North America's summer months, there is a high demand for volunteers to work through the South American winter.
What better way to spend your summer off from school than volunteering for a good cause, and receiving credit for it at the same time? In addition, there are many great internship opportunities available in Eastern and Southern Africa's up-and-coming non-profits, which can give invaluable hand-on community building experience for those trying to enter the field.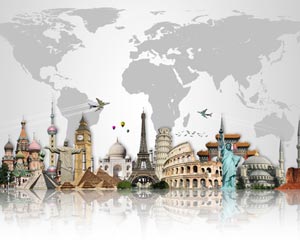 Volunteer vs. Internship Abroad
It may seem like semantics, but deciding how to classify your volunteer abroad experience can have an impact on whether or not you can earn college credit for your trip. If you participate in a sponsored volunteer-abroad program, you may have to convince your school that there is someone who will be on-site to serve as an advisor, to make sure that you stay on track with your academic goals.
Quick Fact: Volunteering overseas for college credit is sometimes referred to as service learning or experiential learning.
There are pros and cons to participating in an internship abroad that go far beyond earning credit – the main issue being cost.
In order to earn college credits, some colleges and universities will require that you are enrolled in the university to earn credit – this means that you might have to pay tuition while you volunteer!
However, being enrolled as a full-time student can actually open up more possibilities for scholarship and grant opportunities that may not be open to volunteers. Before you sign up for anything, check with your advisors to find out what the specific rules and regulations are for your department.
Internship Abroad Resources
You'll find that many of the resources listed for finding great volunteer opportunities abroad can also be used to find an internship abroad. These are some of the top sites for overseas internships:
GoAbroad is a comprehensive source for all programs that offer internships abroad. Many of the programs listed are also those that offer volunteer and work overseas jobs, like Cross Cultural Solutions, BUNAC and i-to-i.
U.S. News and World Report maintains listings of internships around the world in the business, nonprofit and government sectors.
The Student Conservation Association offers three-month internships abroad, focusing on environmental conservation jobs abroad.
In addition to these online resources, be sure to check with your college or university's study abroad office, or office of international education. Many study abroad programs now offer internship and service learning components in addition to more traditional university classes, and have the bonus of being officially sponsored by your school, so you don't have to worry about extra paperwork!
Did you Know? Marketing and journalism internships are among the most popular for students overseas.
Volunteer College Credit Requirements
The requirements of each study abroad/internship will vary greatly from university to university, and department to department. Most students will be required to log their work, and the university will require contact with your host organization to verify that you are fulfilling your duties.
Depending on your field of study, a more in-depth research paper might be necessary. Many volunteers use their studies a springboard to ask questions, interview locals, become more culturally aware.
While summer internships are generally a great resume booster, an international internship with a non-profit is an excellent way to make you standout when applying for jobs after graduation.
For even more tips for finding volunteer work abroad, keep reading our Volunteer Resources page.
Quick Summary:
Many volunteer abroad jobs can earn college credit, if you also perform research or write a paper describing your experience.
It can be beneficial to participate in an internship rather than a volunteer job if you want to earn college credit.
Most major volunteer placement organizations also offer assistance finding internships abroad.