At JobMonkey we know and understand the seasonal jobs niche. Seasonal employment is a fantastic way to find cool jobs, work in cool places, meet cool people, and collect paychecks from cool employers. The seasonal work niche is often overlooked by job seekers, but it's one of the best places to get your foot in the door, build a resume, and find a job that you will enjoy. Seasonal employment is a total game changer.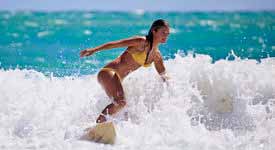 There are so many awesome seasonal jobs to choose from. You could be a whitewater rafting guide in mountains of North Carolina, a ski patroller in colorful Colorado, a lifeguard at a beach resort in the tropical Cayman Islands, a deckhand on a fishing boat off the coast of Alaska, a wrangler at a dude ranch in wild Montana, a performer at an amusement park in Florida, a zip line guide in sunny California, or find some other cool gig in a magical place. The options are endless. Are you ready to join the seasonal workforce?
Learn More About Seasonal Jobs
Before you start applying for seasonal employment, here's what you need to know about seasonal jobs:
It's Work – Even though you are often paid to do things you'd do in your free time, a seasonal job is still work. It's fun and the work might not feel like work, but it's still a job. Seasonal jobs actually pay you to do things you enjoy. It sounds odd, but it's true.
There Are Entry Level Positions – Seasonal employers often have entry level jobs available. Employers are usually willing to train the right person to do the job, making this a fantastic niche to get your foot in the door.
Build Your Resume – We write posts all the time about gaining experience or what what to do when you have no relevant experience. Gain that experience with a seasonal job. Since many seasonal workers move on after a season or two, there's plenty of room for advancement for a focused, hard worker.
Test Out A Company – You won't know what you like in a company until you've worked for a few. Seasonal work is a fantastic way to see how a company treats its employees and to evaluate its culture. With most seasonal employers, seasonal work can lead to full time, year round work for the right person.
Start and Stop Dates – Most seasonal work starts at a specific time and ends on a certain date. For example, in the ski industry, resorts have already determined when they will open and close. This makes it easier to plan your schedule.
Off Seasons – Many seasonal jobs last between 5 and 8 months. If you choose to flip seasons, this means that you will have a few months between seasons where you get to go and play. Be sure to save a bit of extra cash to carry you through those months of fun.
All Ages Are Accepted – It's not just the younger generations who want to find seasonal work.  People of all ages are trying to escape the 9 to 5 grind. One of the best ways to do that is with fun seasonal jobs.
Jobs Become Careers – Even if you think you're going to be a surf instructor only for one summer, it's easy to get caught up in the fun-filled seasonal lifestyle. One season will quickly turn into a decade, but you'll enjoy every minute of it.
Work Abroad Opportunities – Seasonal jobs are often a great way to find work abroad. Since the job only lasts a predetermined amount of time, work visas are sometimes easier to obtain.
There's no doubt about it – seasonal jobs rule. There are seasonal gigs in cities, at the beach, in the mountains, and just about everywhere. This non-traditional career path is a fantastic way to make a living. Find seasonal jobs that appeal to you in industries like:
If you're interested in learning more about seasonal work, head over to your seasonal jobs headquarters – JobMonkey. You can even start your seasonal job search on the JobMonkey Job Board today.