Video Jobs
Videography is an exciting new career field that has grown exponentially in the past 20 to 30 years. Videography refers to the process of capturing moving images on electronic media like videotape, hard disks or streaming media and includes all phases of the process, from pre-production to post-production. Combining Latin and Greek terms for "I see," and "to write," respectively, it is actually very similar in process, to cinematography, albeit on a much smaller scale and budget.
However, the emergence of digital cinematography has blurred the line of distinction and it is not uncommon for digital cinematography and videography to be used interchangeably.
It was only a mere 30 years ago that 'video' referred to the picture portion of a TV signal. Its contemporary meaning comes from an article published in a 1972 issue of American Cinematographer, "Videography: What Does It All Mean?"
Today, videography can be defined as the study of electronic recording and playback of information or the technology, process or art of producing information in digital form.
What makes videography even more interesting is the diversity of jobs and has grown to include distribution and production. Thanks to the advent of Internet technology, videography has spread to include: video gaming jobs, 3D animation, podcasting and videoblogging (or vlogging jobs).
Many freelance videographers are also finding work compiling music videos or video art while others operate businesses whose sole purpose is to transfer film and video tape to blank media on discs and memory cards.
There are a variety of places videographers can look for work:
Television or Movie Studios
State and Federal Government Jobs
Hotels, Theme Parks, Tourist Portals
Marketing or Advertising Agencies
Large Corporations
Plus – Freelance Video Jobs are abundant!
These employers offer a wide variety of videography job opportunities, all of which will be covered in subsequent pages:
The technical skills needed to be a successful videographer vary widely depending on what career you choose to work in.
That said, there are still general skills and qualifications that any videographer must possess if they wish to be successful.
Degree or Certification: Because of the highly technical nature of any videography job, it is important to get the technical training at a school. Most positions require a degree these days.
Highly Technological: Although videography is considered an art form by some, it is still a craft, meaning that before you can achieve artistry, you must first master technique. Also, because new technology, equipment and software tends to develop quickly, you need to be able to learn new details quickly.
Good People Skills: Videography is highly collaborative field in which you will be working with many other people for the sole purpose of putting out high-quality, entertaining or educational video.
On the following pages we detail the market, employment outlook, salary expectations and specific career paths within the industry. You will find an extensive resource page to which you can refer to local videography associations, industry-specific videography associations and other organizations that offer additional training, tutorials and networking opportunity for videographers.
This career guide will be of great use if you are interested in studying videography in school or if you want to know about new career paths in the field.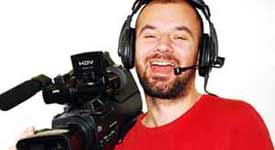 Industry Analysis
The videography industry is expanding year after year. These links will tell you how to get involved.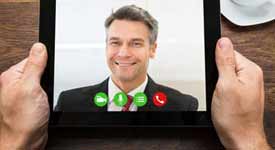 Videographer Jobs
Videographer jobs are available in a wide variety of industries. Below are links to some examples.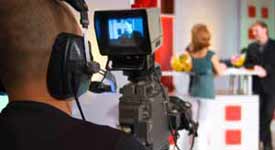 Unique Jobs
Here are some unique jobs available in the videography industry. Let us know what you think about them!