How to Become a Videographer
Interested in a career in videography? You find that shooting local sports events for fun may be a viable career option for you, or you might be a young student considering a degree or job in videography.
No matter; everyone comes into their own on their own time and through different avenues. Follow these steps and you will be on your way to the career of your dreams as a videographer.
The first step is to get a formal education or training. You have many options when it comes to a formal education. You can get a four-year degree at a film school where there are often courses that focus on certain types of video producing or editing styles. Many large universities and colleges also offer coursework in video production and editing. Many two-year colleges and technical schools award certificates or two-year degrees in video production.
Those who work in video production or as camera operators must understand all aspects of filmmaking. From how to record sound, to how to operate a dolly grip. Courses you might take in video production include: lighting, storytelling, post production techniques, art direction, cinematography and production design. Unfortunately, no colleges or vocational schools that offer degrees or certificates in video editing though they do offer coursework on the subject. Video-editing courwork might include: Pre-production methods, media arts studies, multimedia studies, video production, audio recording, camera operations, film technology and animation.
The second step is to get involved. In order to find out what field of videography you will enjoy the most, you will need to get involved. If your university or college has an audio-visual club or a student-produced television show, volunteer your time and effort and learn the ins and outs of putting together a show. Subscribe to videography magazines and newsletters to get a heads up on the ins and outs of owning a videography business or working on staff as a videographer. You can also teach yourself by picking up a camera and offering to shoot video for friends and neighbors free of charge. If you are interested in working as an editor or on the set of a movie, watch a lot of movies. It may sound silly, but it is actually extremely helpful to watch and study the work or professionals.
Become a member of a local videographer association. City, state and regional videography organizations are often made up of different types of videographer and if you become a member you can network with these professionals and turn that into a possible internship.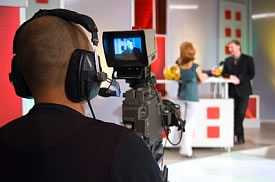 Internships and apprenticeships are perhaps, the third step in becoming a videographer. There is one main major difference between an apprenticeship and an internship. During an apprenticeship, you will essentially work with a professional videographer with his own studio. This person usually assumes that you are coming from little to no formal education or experience in videography, so you will likely be ghosting him, or following him around and witnessing his daily tasks, before you are allowed to assist with any equipment-wrangling or software. An internship usually takes place during the junior or senior years of college and are usually worth a few course credits. Because you are coming from a formal education and some experience, a videography internship is much more hands-on and you will essentially work as an unpaid assistant on set or in a studio.
There are many large corporations throughout the country that hire interns into full-time positions upon graduation, so do not neglect the internship.
The fourth step in becoming a videographer is developing a portfolio, or demo reel. This will be the most important tool you have once you start looking for videography jobs. Your demo reel should, by now, reflect your career interests. If you are interested in a career as a wedding videographer, your demo reel will contain video of different weddings you have shot thus far. If you are interested in a career in sports videography, your demo-reel will reflect this as well.
Start a business and use the video you have done for free as way to get new paying customers and clients. And if you ever decide to work on staff as a videographer, then not only will have a nice, well-edited portfolio, you will also be more knowledgeable of the inner workings of running and operating a videography business or production. Later on in this career guide, you will learn why it is important to be versatile and adept in all phases of video-production now that you are a professional videographer.