Become a Dolphin Trainer
Dolphins are one of the smartest creatures on our planet. They love to play in the wake of a boat or visit SCUBA divers underwater. Maybe you've seen them perform on television or do tricks at a show? Have you ever been in the water with one? Dolphin trainers get to work with animals – fascinating, intelligent creatures – every day.
Dolphin trainers train dolphins and care for their health and well-being. Training is a 24-hour a day job and takes a real commitment. Every dolphin has a different personality so training methods vary.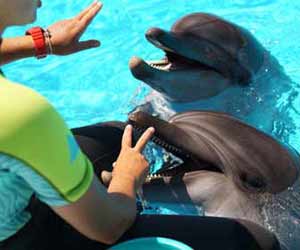 Dolphins need three things – mental stimulation, physical exercise, and care. In a typical day, a dolphin trainer does all of these. After greeting the dolphin, he sorts fish and feeds the dolphin. The trainer must monitor the dolphin's diet and health. Next, he checks the aquarium's water levels. Then he cleans the tank and plays with the dolphin underwater using SCUBA.
Dolphins are usually trained with hand signals and whistles to do tricks that show off their natural abilities. Training is best accomplished through positive reinforcement, genuine praise, and a bucket full of dolphin snacks. Dolphins can learn to identify people, find toys, leap, dive, walk on water, play with balls, or rescue people. They are smart and can be trained to do lots of things.
Training takes place for a variety of reasons. Dolphins may train to perform at water shows at places like SeaWorld. (See: Jobs at SeaWorld). They may be trained to work with disabled people or people going through rehab. Some trainers work with dolphins for research. And of course, those dolphins you see in the movies, like Flipper, have to be trained too. Dolphins can even be trained by the military to find mines or trapped people under the sea. They are incredibly talented creatures, especially when they have a good trainer.
Dolphins are about 6 feet long and weigh around 100 pounds. It's quite a thrill to have the smartest swimming mammal swim, splash, jump, and high five you. But it can also be a bit nerve-wracking when a dolphin darts through the water with his teeth showing. Many organizations have opportunities to get wet with dolphins for a day. It's a good idea to spend time with dolphins before you make a career move.
Dolphin training is a very competitive field. The International Marine Animal Trainers Association is a good place to start your dolphin trainer career search. Trainers must be at home in the water and feel totally comfortable with dolphins. They must also be committed. Many individuals get into training through research. They may have a degree in zoology, marine biology, animal sciences, animal behavior, or even psychology.
Other people get involved because they love for dolphins. These people volunteer part time or work for a summer wherever dolphins are trained. Then they can move into the position of paid trainer's assistant and eventually into a full time dolphin trainer. A professional dolphin trainer does more than just work with dolphins. They also educate the public and answer all sorts of questions.
Working with dolphins can take you all over the globe – Mexico, Florida, Hawaii, Bermuda, Honduras, or anywhere else where dolphins roam. Jobs are usually close to the coast. There are people all over the world who want to be dolphin trainers. It's definitely a dream job. Typically a dolphin trainer will make $24,000 to $40,000 per year. If you enjoy being outside, in the water, working with dolphins, and educating people, then look into becoming a dolphin trainer. But be prepared to fall in love with a sea creature.
Quick Facts About Dolphin Training Work
Job Title: Dolphin Trainer
Office: In the water with dolphins
Description: Care for the health and the well-being of dolphins and teach tricks for entertainment and education
Certifications/Education: Degree in marine biology, psychology, animal behavior, or relate field is helpful
Necessary Skills: Committed to training, Comfortable with animals
Potential Employers: Zoos, Aquariums, Rescue Centers, Research Institutes
Pay: $24,000 to $40,000 per year
Helpful Dolphin Training Employment Links:
Search Dolphin Trainer Jobs on JobMonkey
SCUBA Diving Certification
Dolphin Research Center
Dolphin Trainer
International Marine Animal Trainers Association
Dolphin Connection
Dolphin Institute