Animal Actor Agent Jobs
Every now and then people come across a person who has a job that makes you think twice about what they really do. Barbara O'Brien has that job.
O'Brien is the owner of a Minnesota-based company called The Animal Connection and she and her company have been providing trained animal actors to the Midwest's film, television and advertising community since 1984.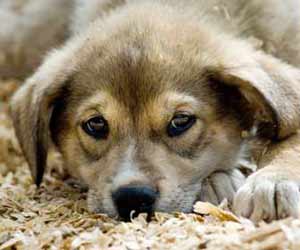 What? Read it again – it's true.
"I provide trained animal actors for film, television and print advertising," says O'Brien. "I work for advertising agencies, photographers, producers, film makers and sometimes a corporation."
The animal actors undergo an extensive pre screening and audition process before they are ever sent out on a shoot.  O'Brien, personally works from start to finish with each animal actor to ensure that clients get the best possible performance.
And it works. Here is the proof: Over the past 25 years, the Animal Connection has provided 3,307 dogs, 1,466 cats, 1,245 chickens, 777 ducks, 566 rabbits, 217 butterflies, 104 pigeons, 95 sheep, 93 pigs, 84 cows, 51 birds, 47 doves, 36 mice, 29 goats, 28 horses, 27 geese, 23 parrots, 17 donkeys, 14 canaries (the list goes on and on) for clients such as Target, Purina, Cargill, Science Diet, Apple Computer, Harley Davidson, Dow Chemical, 3M, Anderson Windows, Tractor Supply Company, Wells Fargo, AT&T, Best Buy, General Electric, Wonder Bread, Mercedes Benz, IBM – and many, many more.
The story of how O'Brien started working with animals is a long one. But it mostly revolves around her love of animals, reading an article about a new modeling agency that represented adults, children and animals, responding to that ad, and making her connections with those in the advertising/television industry, as well as in the animal world, grow into what is today a thriving business.
When O'Brien started this over 25 years ago, she never knew it would grow into the successful business it is today. The job is unique, and no day, animal, or shoot is the same. Job opportunities can come out of nowhere, at any time, as well. One weekend, O'Brien was getting ready for a relaxing weekend at home when she ended up spending her entire weekend working with a cat for a Maxwell House coffee commercial.
"The best thing about my business that no two days are ever alike," says O'Brien. "It is truly a lifestyle as opposed to a high-paying profitable business. I get to play with animals and work with interesting and creative people and learn something new every day. I work with my animals and care for them on my farm and also manage the business."
The vast majority of O'Brien's work is done in Minneapolis. She is also a professional photographer when she is not providing animal actors.
While her client list is an impressive one, O'Brien says the animal actor industry is not a huge part of the Minneapolis television and advertising scene.
"There are many excellent trainers and I would think much more opportunities on the coasts where there is more film and television production," says O'Brien.
What type of background or skills does someone who wants to pursue this type of opportunity need?
"Being an animal trainer is important," says O'Brien. "But you need to be able to handle the business end and dealing with clients as well. People think it really easy to find and train and work with animals for film but you really need to have an understanding of what is expected on the set and what kind of animals like to work.
Like kids, it seems everyone thinks their pet is cute, adorable and the perfect fit to be an animal actor. What makes a good animal actor?
"Your pet must be well trained and socialized," says O'Brien. "Nervous, nippy or unhappy animals need not apply. Your pet must be healthy and of the correct weight for his type. You must be available to bring your pet to auditions and shoots. You must be available on short notice and have a flexible schedule or an understanding boss."
O'Brien's job is certainly unique – one that makes you think twice about what she really does. But O'Brien doesn't think twice about the career she started over 25 years ago.
"I am able to wake up every day loving what I do and to live on our farm and work with people and animals in a fun and interesting way," says O'Brien.