Animal Television Shows
Amongst the many reality shows on both network and cable television, there is a growing subset of animal TV shows, thanks in large part to the Animal Planet network.
In recent years there have been a plethora of popular shows, including "Animal Precinct," "Animal Cops," "Animal Cops: Philadelphia" and "Miami Animal Police" all showing the legal side of animal related-topics, while "After The Attack" dealt with the emotional aspect of surviving an animal attack.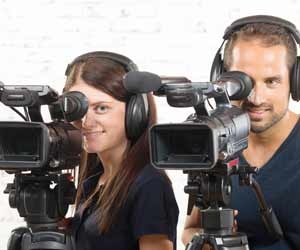 Both educational and entertaining, shows such as "Baby Panda's First Year," "Up Close and Dangerous," "Most Extreme," "Lemur Kingdom," "Jessica the Hippo," "Growing Up Grizzly," "Meerkat Manor," "Mutual of Omaha's Wild Kingdom," "Orangutan Island" and "Untamed and Uncut" all highlighted wild animals in all their glory.
Other shows have included "It's Me Or The Dog," "Breed All About It," "E-Vet Interns," "Good Dog U," "Groomer Has It," "Puppy Bowl," "Planet's Funniest Animals," "Pet Star," "Showdog Moms and Dads," "Animal Planet Heroes," "Austin Steven" and "The Crocodile Hunter."
The other major channel that highlights animals is National Geographic, which rolls out animal programming every year.
The people both behind the scenes of these shows, as well as in front of the cameras, also work day in and day out with animals (and humans) to produce television shows that educate, entertain and, sometimes, bore viewers. JobMonkey also has information about movie industry jobs, which might be up your alley!