EMT Career Advice
Q&A with an EMT, continued
What did you have to do to become certified?
If you have passed EMT-Basic class and want to go on calls, you must first get National and State certification. It is now a computerized test that asks you questions all about EMT-Basic…It is a very serious test – you are videotaped and recorded so you can not cheat. Once you pass the National exam, you get a certificate and you can then become State certified – all you have to do is fill out an application and turn it in…Then, depending on what state you live in and what you want to do, you can try and get on with a station or hospital.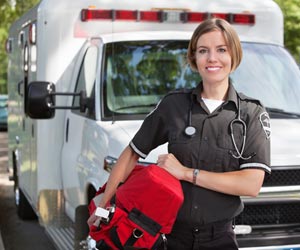 What will your schedule be like as a volunteer EMT-Basic?
Depending on my work schedule, I will be working Saturday and Sunday, from 8:00am Saturday to 8:00am Sunday morning, so about 48 hours.
What do you do for work in addition to your volunteer EMT work? Are you considering eventually switching to a fulltime career as an EMT?
As time goes on I would like to become a paramedic as well as wild land fire fighter and structure firefighter. But for now I am going for experience to make sure I can handle all the trauma. My next training will be becoming an EMT-Intermediate. I would like to make this my full time career – it would be a lot better than working front desk at Hotel Colorado.
You start work on Monday. Do you have any idea what to expect? Are you nervous? Excited?
Yes, I am very excited to start volunteering with Carbondale Fire Department, and nervous. But it's like all new things – as time goes on you start to feel comfortable. I can't wait to start helping out my community.
What advice could you give to somebody who is thinking about becoming an EMT?
My advice to anyone who wants to become an EMT is to go for it! It is a very rewarding job and you are helping out and making a difference in the world. If you do get on the road to becoming an EMT, keep training and studying and participate to the best of your abilities.