Yoga Instructor Jobs
Q&A with a Professional Yoga Instructor
New fitness crazes like yoga and Pilates have become extremely popular in North America over the past ten years. Yoga studios have been popping up across America, and students both young and old have been throwing on their Lulu Lemon sweatpants and getting into downward dog – among other poses. Not surprisingly, the demand for qualified yoga instructors in North America has grown immensely and job prospects are expected to grow in the coming years.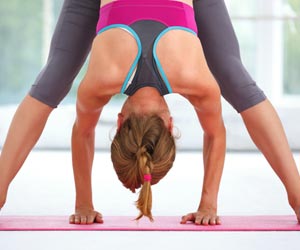 Linda Reddendale Martin, a certified yoga instructor from Littlerock Arkansas, shares her story about how she got into the field, and makes some suggestions for those of you considering a career as a yoga instructor.
How long have you been a yoga instructor? What types of classes do you teach?
Two years, although I have practiced for 12 years. I teach Hatha yoga, Ashtanga. I teach an ages 50+ beginners class. The median age is 75. I teach 2 classes to beginner-intermediate ages 16 and up, and one class in a spa setting that is all levels.
Please describe an average day on the job.
I work full time in addition to teaching yoga. I am constantly researching information, reading books, and watching DVDs. I teach on Tuesday mornings, Tuesday and Thursday nights, and Saturday mornings.
Why did you choose to become a yoga instructor?
I work in a physical therapy clinic. I was encouraged to share my gift with patients that were being discharged and needed a structured program. When I initially started I only taught our patients and discharged patients. That has now grown into classes to the public at their request.
What sort of educational and/or training requirements did you need to fulfill in order to teach yoga?
I began going to teacher trainings a year after I began my practice. I initially had not really planned on teaching. There are great nationally recognized teachers to learn from such as Rodney Yee, Erich Schiffman, John Friend, Baron Baptise, and Judith Lasiter, just to mention a few.