Multi-Day Raft Trips
Take the image of lying on the side of a raft, slowly rising and falling with the moving of the current below you. The wind softly blows to cool your skin, with the occasional spray from the water. You are deep in a canyon feeling, hearing and thinking about nothing more than what is around you.
Now take this image and spread it out over the course of 5-14 days. This is a multi-day rafting trip.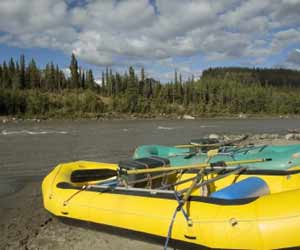 A multi-day raft guide is generally considered a lucky river guide. Only a handful of raft guides join the ranks of these professionals as it requires a specific combination of hard and soft skills, extensive river experience and an intense determination. While not impossible, the high demand for only a few number of positions make this river guiding position one of the most coveted in the industry.
Spending multiple days on a river introduces an entirely different set of skills required of a guide, beyond those necessary for a daily trip. Familiarity with the rapids, working as a team and excellent guest rapport only scratch the surface of the skills of a multi-day raft guide.
Before a multi-day raft trip even begins a large amount of planning and preparation must be done. On Grand Canyon multi-day trips, the trip leader must coordinate daily logistics with the other companies that will be on the water at the same time. This involves reserving specific campsites and popular day hikes to avoid crowds and maintain a feeling of seclusion for the guests. The head cook on a multi-day rafting trip must organize the group's menus prior to launching. He/she will load the coolers in accordance to what food items will be needed on each day of the trip. If done perfectly, the trip will enjoy iced beverages and fresh cilantro on the last day of a two-week river trip.
Other guides will prepare the additional equipment necessary for this type of river trip. While guests will pack their own personal items, guides are responsible for arranging all the necessary camping, kitchen and safety equipment. This includes tents, sleeping pads, stoves, propane, tables, cooking utensils and a more substantial medical kit.
Once on the river, a multi-day river guide will find himself filling a slew of other outdoor leadership roles beyond normal raft guiding.
On these trips a guide will develop a more personal relationship with the guests. Instantly, a guide must transport their customers into a different reality. Grand Canyon veteran Adam Elliott describes his experience with customers on one of the most quintessential multi-day raft trips in the world. "It's about immediately falling into living that group experience that is the reality for the next two weeks. It makes it so that your role is always being aware of what is going on in the group. More importantly, it becomes so much easier for the customers to transition into the reality of what multi-day rafting is. It's instantly a community."
With over thirty Grand Canyon multi-day trips, Adam knows that raft guides are even more responsible for creating a unique and lasting experience for their guests. He shares his knowledge of the canyon's natural history and distinctive ecosystem while rowing on serene stretches of river. He safely leads customers on hikes up side canyons to see ancient drawings scratched on the walls. He prepares gourmet meals and entertains guests around the campfire at night. But mostly, Adam shows his guests that living the simple, adventurous routine of a multi-day trip will strip away worries and lead them to develop a connection with the natural world.
Adam is a raft guide that changes the lives of his guests by simply letting them fully live the multi-day river experience.