Wilderness First Responder, Medical & First Aid Certifications
You are miles away from the nearest hospital. An ambulance would never be able to maneuver the steep roads that took you to the river. Definitive health care could be hours and hours away, but as a professional raft guide, you are ready for anything.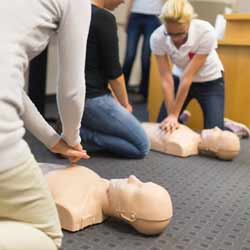 In any guide position, you are responsible for the safety of your fellow guides and the guests on your trip. This means that you might be required to perform first-aid care. Because of this, rafting outfitters require that new and veteran river raft guides be certified in first-aid and CPR.
These courses instruct individuals on the immediate medical care involved in minor and major injuries. A basic course will show a guide the type of temporary care they can provide while waiting for a more highly-trained professional. Since the first five minutes of any injury are crucial, a raft guide can provide a great deal of care to an injured guest. This type of care is crucial and often the most helpful to an injured individual.
A typical first-aid course begins with teaching proper patient assessment systems. This includes the initial patient exams, determination of the severity of injury and recording vital signs. During these first few moments with a patient, a raft guide will also learn to take a patient history and begin documentation of the incident.
After the patient has been stabilized, a raft guide can then use the knowledge gained in the first aid course to provide the next level of care. These courses will cover spinal cord injuries, head injuries, shock, wound management, fractures, dislocations, head injuries, cold injuries, altitude illness, and allergic reactions.
However, encountering an injured person on the river, versus the street, presents additional difficulties.
Many outfitters will want raft guides to go through an even more specialized first-aid course that discusses these types of injuries in a backcountry setting. Since rafting involves being in more remote areas, immediate medical care can mean the difference in the outcome of any injury.
The Wilderness Medical Institute, the country's most recognized teacher of wilderness medicine, emphasizes the importance of this immediate care. WMI's Wilderness First-Aid courses focus on the difference between urban medical care and that which is provided in a more remote, outdoor setting.
For raft companies whose trips are deeper into the wilderness and over multiple days, a Wilderness First Responder, or WFR, certification may be required. This course provides over 75 hours of medical training. Special topics are covered that provide extended care in the backcountry such as wound infection management, improvised splinting techniques, and long-term management problems.
A step up from the WFR certification is the Wilderness Emergency Medical Technician, or WEMT. This course is designed for professional medical personnel such as Search and Rescue squads or Fire Departments. The course covers over 170 hours of medical training, preparing the outdoor professional for nearly everything.
With these basic medical certifications a river raft guide can maintain a higher level of safety for his guests.
Along with first-aid, rafting companies will also require new river guides to be certified in CPR. CPR, or Cardiopulmonary Resuscitation, can be lifesaving. This course provides crucial knowledge and technique that will help a patient who has lost function of the heart. This could be in the form of a cardiac arrest, a lightning strike or the intake of fluid into the lungs. Since rafting can often be physically challenging to many guests, the chance for heart difficulties exists in any river trip.
With these certifications a raft guide will be prepared for any medical emergency he might encounter.