Do you want to work with kids? Working with children is an exciting way to make a living. If you're looking for a job that's fun, challenging, and always different, then focus your job search on jobs where you work with kids.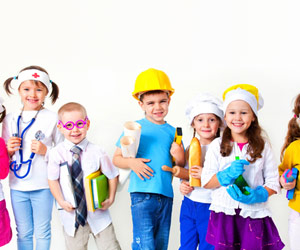 Working with kids is a rewarding and satisfying way to make a living. Kids are fun-loving, creative, active, and adventurous. No two kids are the same and that means no two days are the same either. Finding a job working with children comes with its own unique challenges, but at the end of every day, kids will always make you smile.
Nelson Mandela once said, "Children are our greatest treasure. They are our future." It's true. According to GapMinder.org, there are 1.9 billion children in the world. That's roughly 27% of the world's population. This select group of humans is going to make a major impact on the world. When you find a job working with kids, you'll play a role in shaping the way they live their life. It's a great responsibility and the world needs people like you to fill these jobs.
Are you ready to learn more about in demand jobs where where your day-to-day responsibilities revolve around children? Typically jobs like these come in 4 main categories: education, health care, social work, and recreation.
Let's take a look at a handful of cool jobs where you work with kids:
If you love the idea of working with children, then apply for one of the jobs listed above or learn about other cool jobs where you work with kids on JobMonkey.com.
Did you know that you can search and apply for cool jobs like these on JobMonkeyJobs.com? Try it today. Our JobCenter is totally free and easy to use. When you land the right job for you, it might just change your entire life.
When you work with kids, you know that every day is going to be a blast!
See Also: