Life is short so make the most of it. Don't spend time doing things that you don't enjoy. Instead focus on pursuing your passion so that you enjoy each and every moment of the day.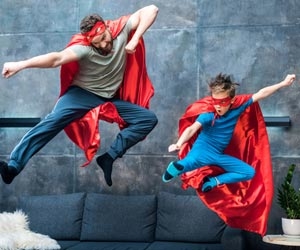 Groucho Marx once said, "If you're not having fun, you're doing something wrong." This is brilliant advice and it's worth following in all aspects of your life – including your job search and career path. So why don't you find a job that makes you smile? If you're keen to find jobs where you get paid to play, then you've come to the right place.
Discover Wild, Wacky, and Unique Jobs
Google defines "play" as "engage in activity for enjoyment and recreation rather than a serious or practical purpose." Play is something that you get to do for fun. So what do you do in your free time? Figure out how you want to play and then figure out a job that allows you to do that. Everyone will have a different idea of fun and that's ok.
Below you'll find a list of cool jobs where you get paid to play. Use this list to brainstorm the perfect job for you.
Waterslide Tester
What Are The Most Fun Jobs In The World?
Learn about all of these cool jobs and more on JobMonkey.com. It's also important to note that you can't really "play" for a living. If you're getting paid to do something, the job requires some sort of responsibility. The main takeaway from this post is that you can find a cool job that allows you to do fun things and still collect a paycheck. Jobs like this really do exist. It's up to you to go out and find one.
Are you ready to do something fun and extraordinary with your life?
See Also: