Getting Hired to be a Ski or Snowboard Instructor
The best way to get a job as a snowboard or ski instructor is to attend a resort's hiring clinic. Held at the beginning of the season, these clinics are used to narrow down the applicant pool and determine what level of students each instructor should be assigned to.
At hiring clinics, resorts will want to know about your background as well as your skills. During the course, ski school directors will watch you ski and will want to know the extent of your technical knowledge of skiing.
Skiing or snowboarding ability is important, of course, but just as vital are interpersonal skills. In fact, when teaching children or beginners sometimes very little skiing is required.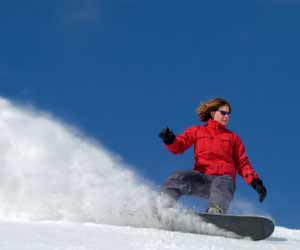 The head of a ski school in Oregon says he looks for a "people person" when hiring a new ski or snowboard instructor:
"I want people who can be fairly entertaining and who can have fun with eight or ten strangers. I also want people who can work with children, especially entry-level applicants."
Other previous experiences can be a plus as well. If you've studied recreation or physical education, taken a skiing class in college, or have a coaching background – in skiing, snowboarding, or any other sport – you'll be a strong candidate for an instructor position.
Those without a skiing or snowboarding background will more than likely start from the bottom, meaning they will probably be teaching children or beginners, at least at first.
For some, getting an instructor position is as simple as applying:
"I went to the personnel office and they had a job board. On the job board was a children's instructor position, among others. I decided to go for that. It was pretty easy to get the job. They sent me over to the children's ski school and I filled out an application. They gave me an interview right away and signed me up on the spot."
A ski instructor at Winter Park who also works for Professional Ski Instructors of America says not to give up if you don't pass the hiring clinic:
"Not everybody passes. After all, you can't teach if you can't ski. But a lot of people can teach even if they're not the best skiers. There are areas you can be weak in and still get hired. If they don't hire you often they will tell you to work on certain things and come back next year to try again."
Instructors hired by a large ski school will usually have a pre-season orientation where they may fill out necessary paperwork and hear lectures on area policies, safety concerns, and standard operating procedures. Because of the ever-mounting costs of liability insurance, many ski areas now require any employees working on the hill to have their knees tested on a Cybex machine. If a significant difference between muscle strength in each leg or a wide discrepancy in the relative strength of the anterior and posterior muscle groups of the legs is found, you may be denied employment. Statistics show a correlation between muscle imbalance and increased risk of serious knee injury. Additionally, most on-hill employees are now required to have the release values of their bindings function tested and certified to be within specifications.