Investment Banking Jobs
There are two definitions of investment banking. At some banks, investment bankers are those who work with businesses to get them very large financing or capital. Most of the time businesses work with investment bankers to launch an initial public offering (IPO) or to offer additional stock, or to merge or acquire another business. The bank underwrites the stock offering, assuring the business of the funds. The bank then receives the proceeds of stock sales. The federal government regulates all stock transactions such as this, as well as mergers and acquisitions involving the exchange or combining of company stocks. As you will see when you read our description of investment bankers below, these bankers must be very knowledgeable when it comes to this kind of transaction. But not all banks offer these services. There are some investment banks that are focused on investment banking, while some very large banks do provide investment banking services.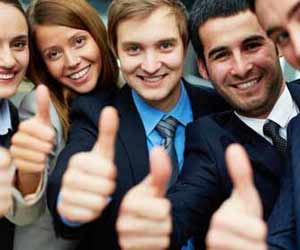 Investment bankers work very hard. They must analyze and research a lot of a business' financial and operational data to put together stock offerings that make sense and meet the business' goals. They may put in quite a few additional hours and be required to travel as part of their daily business routine. Like most banking jobs, investment bankers also work one-on-one with customers – sometimes many people at one business, and under intense circumstances. Because of this, investment bankers must enjoy working with people.
The business world is in a constant state of flux, and there will always be a need for investment bankers. If you have an interest in this sometimes very exciting position, read our guide on investment bankers below. It may take some work and additional education on your part to land this kind of job, but it can be a very worthwhile position to hold.
At other banks, the investment department is more about individual customers and increasing or managing their wealth through choosing the right investment products. Investment analysts' or brokers' jobs are about looking at an investor's financial goals, both short- and long-term, and making sure these goals are met by helping them choose stocks, bonds, mutual funds, or other investment products. As you'll find when you read the descriptions of these employees, investment analysts or brokers must be knowledgeable of the investment world – what products are available, and when is a good time to buy or sell them, as well as bank and federal policies and regulations governing them. They must also work with customers to learn their risk tolerances.
This is also an area of banking where things are constantly changing. Due to recent financial crises and scandals, laws and regulations are changing, affecting what products analysts and brokers can offer their clients and how they can offer them. The market can also be unpredictable. People in these jobs must be able to cope with a high degree of uncertainty and risk. But they can also be very rewarding jobs, both monetarily, and emotionally, as clients' portfolios grow and dreams are achieved. These employees are also sales-oriented, working to bring new clients and their investment dollars to the bank.
Many Types of Jobs
Analysts and brokers are not the only employees in a bank's investment department. It takes a team of people to ensure that banks are attracting new investors, handling their investments properly, meeting all bank policies and federal regulations, and reporting results to clients through statements, letters, and other forms of communication. That means there is the need for administrative personnel, assistants, and managers. There is a position at every level, from entry-level to executives. If the investment world is something that attracts you, you enjoy the constant change and a fast-paced environment, then working in a bank's investment or wealth management department may be a good choice for you.
Job profiles in this section:
On the following pages you'll learn about each of these positions.