Become a Fashion Designer
Are you interested in fashion? Do you love creating your own outfits? Well, you might just have what it takes to become a fashion designer. How would you like to work the runways of Paris and Milan with the rich and famous marveling at your stunning designs? This is something that is possible with a little bit of creativity and a lot of hard work.
The first thing to take note of is the high competition for fashion designer jobs. It is glamorous and everyone wants to do it, so you have to have that extra ambition to make it into the industry. This said, you don't have to aim for the likes of Paris and Milan, but instead opt for creating everyday wear for some local boutiques and well known fashion labels.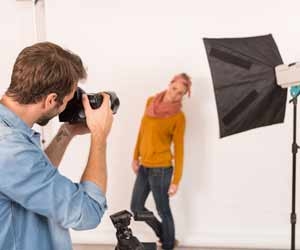 You will have to stick to their "image" but this is a good place to start. See Related: How to Become a Model.
According to statistics, the most fashion designers are hired in California and New York with employers looking for people who are knowledgeable about ornamentation, fabrics, textiles, and the latest trends, as well as having a 2 or 4 year degree. With this, you can earn in the region of $62,000 a year, just for doing what you love!
The fashion design process takes between 18 and 24 months to complete, from the initial idea to the end garment. To gain inspiration and find out what look is going to be "in" next season, some designers decide to research this themselves, but others use various fashion industry reports which fabric manufacturers use to decide what patterns, colors and styles will be the most popular choices.
To become a fashion designer you will have to understand and learn how to use CAD (computer aided design) to try out various designs, test different patterns and colors, as well as lines on computerized people, instead of making a mock up version each time. This will save a lot of time and money.
If you work for a large design firm, there are various levels of employment, where the lead designer is at the top of the chain and is responsible for the creation of the design and choosing the fabrics and colors, while the technical designers make sure that this design is transformed into the final product. These design firms also employ pattern makers, sewers, and tailors who are all responsible for some area of the design process.
The first thing you need to do to become a fashion designer is sign up with an accredited design college like those listed on the National Association of Schools of Art and Design. Here you will find approximately 300 design colleges where you can take 2 year or 4 year courses. You will generally be required to have an Associate or Bachelor's degree and this can also be accompanied by a marketing degree, or business course. It is also helpful to study the human anatomy, mathematics, and psychology.
Once you have graduated, the next step will be to find a design firm where you can intern. Internships are an excellent way to get into the design world and are helpful to learn more about sketching and to create a portfolio. Another way to get into the fashion design world is to enter sketches and designs in student or amateur contests.
So, what else is needed from a fashion designer? Aside from being creative, you need to know how to sew and make patterns, even though you, as the designer, will not essentially be doing this. However, you still need to understand the skills in order to convey to the pattern makers and sewers what you want. You have to be a team player and a strong salesperson in order to present your collections to prospective buyers, manufacturers, and suppliers.
Most aspiring designers start out working as pattern makers or sketchers to assist the more experienced fashion designers and from there they work their way up to a managerial position or end up opening their own fashion studios. Or you could be showing off your latest creations on TV, by entering the popular Project Runway!
Fashion Designer Quick Facts
Job Title: Fashion Designer
Office: Fashion Houses, Studios,
Description: Design and create fashionable clothing
Certifications/Education: 2 or 4 year fashion design Associates or Bachelors degree. A marketing and business degree is optional.
Necessary Skills: Knowledge of fabrics, textiles, colors, shapes, and patterns, sewing, sketching, creativity
Potential Employers: High end fashion designer, fashion house, retail fashion companies, self employed
Fashion Designer Salaries:
The annual wage for a fashion designer is $61,160. In the largest fashion industries, here are the median annual wages for fashion designers:
Management of design companies – $72,560
Cut and sew apparel manufacturing – $66,000
Apparel, notions merchant, and piece goods wholesalers – $61,600
Specialized design services – $59,560
Check out the latest salary research:
Helpful Fashion Designer Employment Links:
Search Fashion Designer Jobs on JobMonkey
National Association of Schools of Art and Design
Council of Fashion Designers of America
Fashion Schools
Fashion Schools in the United States
My Lifetime Project Runway TV Show