Become A Personal Trainer
Personal trainers are experts at getting people fit and developing fitness programs so that people can maintain a healthy body. They are outgoing, friendly, good leaders, and have excellent sales skills.
Personal trainers work in various locations, from private homes, country clubs, and hospitals to professional athletic teams and universities in order to motivate, instruct, and lead clients to a better body.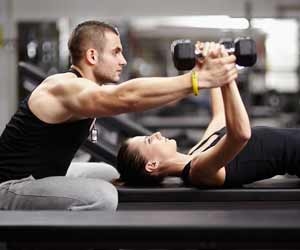 There are many forms of fitness and while some trainers work with gym equipment and traditional cardio like running and cycling, other personal trainers specialize in Yoga, Nia, or Pilates among other things. Another thing to remember is that personal training jobs are mostly part time, but you can increase your income by working at several fitness centers and at clients' houses. Personal trainers are at risk of injury due to the physical nature of their jobs, and often work long hours when gyms and fitness centers are open, also working over weekends and holidays.
Trainers can be classified as personal trainers, who take on just two or three clients and work one-on-one with them, as group exercise instructors, where a group session is arranged, or as fitness directors, who oversee the entire fitness center or club.
The personal trainers attempt to help their clients reach a certain fitness goal and keep records of their progress, with emphasis on modifying their entire lifestyle outside the gym as well.
Group instructors hold classes including aerobics, Yoga, Pilates, muscle toning, and stretching to improve cardiovascular exercise. These sessions are often set to music where the instructor will have to choreograph the routine before hand and monitor everyone in the class to make sure that they are coping. The goal is to make the classes fun, motivating, but not too complicated for the participants.
Fitness directors are responsible for working out incentive programs for the center or club and performing fitness assessments for members. You have to hire and train staff, select equipment and plan all the classes and personal training sessions.
To become a personal trainer you have to be certified and the best way to do this is to attend a class or course that caters for the specific type of personal fitness training you are interested in. Group instructors are not generally required to be certified, but this is something that employers will encourage, and they will usually take part in a class before auditioning to be an instructor. Once you are certified, you will work under a more experienced trainer until they feel that you are ready to train clients on your own. Attending fitness seminars and conventions is also recommended.
A large number of employers nowadays are looking for job applicants to have a Bachelor's degree in health and fitness related fields such as Physical Education, Exercise Science, Kinesiology and whilst many of them agree to substitute a degree for certification, a lot of them do require you to have both.
Yoga and Pilates instructors also have to undergo specialized training which can take up to a year to complete. More rigorous standards have been put into place to minimize injury to clients and prevent poor methods being taught. See Related: Yoga Jobs
To start working, it is best to contact your local fitness centers to find out what types of backgrounds they are looking for. Some employers will require you to work with the elderly or lead a certain type of exercise method which will require some extra training. To ensure that you get the best training you should find a course that is accredited by the National Commission for Certifying Agencies. They will normally require you to have a high school diploma and be certified in CPR. There is a written and practical exam which will give you a 2 year certification, after which you have to get recertified.
By 2018 it is predicted that the employment of personal trainers will increase by 29% which is higher than the average, as so many people are concerned about fitness nowadays. Those who specialize in new technology and fitness methods are more sought after.
Personal Trainer Salaries
Although no medical or pension benefits are offered, due to the jobs being mainly part time, personal trainers usually have free use of the fitness equipment and facilities where they work.
Quick Personal Trainer Employment Facts
Job Title: Personal Trainer
Office: Fitness centers, resorts, sports clubs, hospitals, and clients' homes
Description: Develop fitness routines and help clients to reach their fitness goals
Certifications/Education: Certification is required, but also a Bachelor's degree in a fitness related field
Necessary Skills: Must have an outgoing personality, be fit and healthy, possess top sales skills, and motivate clients
Potential Employers: Fitness centers, private clients, gyms, sports teams, universities, hospitals and other health facilities
Helpful Personal Trainer Employment Links:
Exercise and Fitness Employment
National Commission for Certifying Agencies (NCAA Accreditation)
Yoga Alliance
Pilates Alliance
Bachelor Degree in Health Services
Bachelor Degree in Health and Fitness Management
International Fitness Professionals Association
National Aerobics and Fitness Trainers Association
International Fitness Association
Aerobics and Fitness Association of America