Become a Lawyer
"I object…!" Have you ever imagined yourself saying this? Can you talk confidently in front of a room full of people and think on your feet?
Well, then perhaps you should look at how to become a lawyer. A typically high paying career, law is the ultimate goal for many hard working students and to achieve your goals you will need to attend undergraduate school for 4 years, after which you must attend law school for 3 years, and then pass your bar examination to become a fully qualified lawyer and eligible to practice.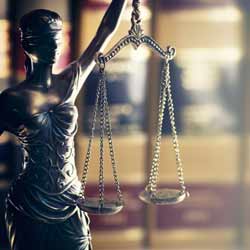 Lawyers or attorneys act as primary advisors in our community and advocate the rights of the people. They council clients on their legal rights, as well as gather and present evidence to a court regarding any cases that they are working on, whether they are defending or prosecuting. A lawyer basically acts as the voice of their client and argues on their behalf to support their side.
When you start out as a lawyer you will probably have to work for a government organization such as the U.S State Justice Department as a district attorney, or developing government programs, drafting laws and legislation, as well as establishing various law and justice procedures. You could start out working for large law firm where you will start out as an associate. You can also get law jobs at private companies and corporations where you will need to specialize in commercial law and where you are typically known as the "House Council." Lawyers starting out can also work for legal aid companies which are developed to provide legal representation for the disadvantaged. Once you have enough experience, a good reputation and a number of years behind you, you will be able to start your own law firm or partner with other lawyers to open a practice.
Lawyers can choose to specialize in a number of different law areas including medical law, insurance law, real estate law, probate law, civil law, environmental law, criminal law, family law and others. This is your personal preference and you can specialize in more than one. Deciding whether or not you want to defend or prosecute is also up to you and depends on what policies the law firm you work for has. Typically a law firm will only defend accused persons, or choose to only prosecute those accused on behalf of the state, city, or victim who has pressed charges.
The road to becoming a lawyer is tough and only the most determined and hard skinned with make a success of it. The gift of the gab is not the only skill you require though to be a good lawyer. You need to have excellent research skills and an analytic mind. Thinking on your feet and strategizing whilst in the middle of questioning and making deals is a key element to being a successful lawyer. Whilst there is a lot of negative connotation behind being a lawyer, there is a strict code of ethics that you have to follow, and you must be responsible.
Being a lawyer is not just about courtroom drama, but you also have to draw up legal documents and contracts, create wills, assist with mortgages, and advise clients about trusts and company registrations. Long hours come with the territory, and 33 percent of salaried lawyers will work more than 50 hours a week. Lawyers often work overtime and on weekends to prepare for cases.
See Related Section: Paralegal Jobs
So you've dreamed about facing a courtroom full of people and hashing it out with your opposition, well, now you have your chance to realize your dreams by learning how to become a lawyer. The first step to reaching your dream is to further your education by attending a university, attaining your bachelor's degree and thereafter a law school that boasts an excellent library. Your entire education should take about 7 years of study and then you can take your bar exam through the American Bar Association (ABA) to be fully qualified.
Some of the best accredited schools include the American College of Real Estate Lawyers and Harvard Law School. What you major in is not really that important for attending law school, but you should instead have a multifaceted background covering lots of different areas including English and other foreign languages, economics, history, social sciences, mathematics, accounting, public speaking, computer science, real estate and many others. This is because if you go into something like patent law you need to have a background in science and engineering, while to become a tax lawyer, you need to study accounting.
The minimal requirement to attend law school after university is a bachelor degree. There is tough competition to get into law school and the admission process is strict with the applicant being required to take the Law School Admission Test (LSAT), as well as complete their transcript and sit for an interview. Of the 200 ABA accredited law schools, all require the LSAT to be taken and submitted to the Law School Data Assembly Service or the Law School Admission Council (LSAC) who oversee this process and standardizes the applicant's college scores to send them to their choice of law school.
In addition to studying in classrooms, you will also have the opportunity to gain practical experience by being part of a school sponsored legal clinic. Here you get to appellate arguments and take part in practice trials under the supervision of a experienced lawyer and judge. Further experience can be gained by interning at a law firm or corporate firm that requires a clerk over the summer. Upon graduation you will receive your first professional degree, the juris doctor (J.D).
To be a lawyer means that you will always have to be informed and updated on any new developments in the law which is why continuing education is so important and often it is mandatory. The examinations are usually held through local and state bar associations. There are also various associations that you should join as a lawyer, and you can find a comprehensive list of these on the HG Worldwide Legal Directories website including bar associations.
To begin getting clients and practicing law, you need to be licensed according to the state in which you will be working, and this simply consists of writing your bar examination and sometimes a separate ethics examination. Some states are willing to allow the same bar exam to cover you in the event that you need to work in a different state, but you might have to retake this exam. Although the exam is not nationwide, most states choose to include the 6 hour long Multistate Bar Examination (MBE) as part of the overall exam, while some states also choose to include the 3 hour long Multistate Essay Examination (MEE). All law school graduates are also asked to take the Multistate Professional Responsibility Examination (MPRE) which can be done during law school or during the bar examinations.
Once you have passed your bar examination, the next step is to find work, and the best way to get your resume out there is to use the contacts you made during your summer internships. Many people actually get employed by the same law firm that offered them an internship.
There is expected to be a lot of work for lawyers over the next 7 years with a 13 percent increase and many opportunities in healthcare, intellectual property, corporate litigation, bankruptcy, environmental law, and antitrust law. Law jobs are high paying jobs with an average salary of $110,600, so overall, a top career choice!
Quick Lawyer Employment Facts
Job Title: Lawyer
Office: Lawyers work mostly in their offices, law libraries, and courtrooms. They meet clients in various locations at home, at a coffee shop, in hospital or in prison.
Description: A lawyer is an advocate for rights and works to research, gather evidence, and prepare arguments for court in which they will help their client to win a case and get justice, as well as offering any legal assistance to their client out of the courtroom.
Certifications/Education: 7 years of education is required, and a written bar exam is required so that you can get a license to practice.
Necessary Skills: Aside from the obvious ability to speak in front of people clearly and get your point across concisely, lawyers also need to be practical, analytical, possess excellent computer and internet skills, have a responsible attitude, have excellent research skills, and must follow a code of ethics.
Potential Employers: Departments of Justice, Treasury, and Defense in government, law firms, and other corporations, or you can be employed as house counsel by insurance companies, public utilities, real estate agencies, banks, manufacturing firms, non-profit organizations and other businesses.
Lawyer Salary Ranges:
A lawyer's pay is subject to their employer with solo lawyers earning less than those partnered in a large firm. The average annual salary is $110,600. Here is a breakdown of the areas employing lawyers:
Management of companies and enterprises – $145,770
Federal Executive Branch – $126,080
Legal services – $116,550
Local government – $82,590
State government – $78,540
Track the latest salary information here:
Helpful Lawyer Employment Links:
Search Lawyer Jobs on JobMonkey
American College of Real Estate Lawyers
HG Worldwide Legal Directories
Law School Admission Council
The Association for Legal Career Professionals
Harvard Law School