Become a Travel Agent
How do you get great discounts on flights and accommodation anywhere in the world? Become a travel agent of course! These benefits are part of the reason that people decide to become travel agents, with free trips (called familiarization trips) being the top attraction.
The main duty of a travel agent is to help people with their personal and business trips, as far as booking flights, hotels, organizing car rentals, and giving travel advice is concerned. The most successful travel agents are those who specialize in certain types of travel and/or specific destinations.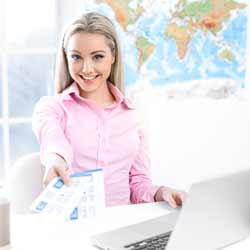 Traveling is a huge task and to sort everything out on your own can be stressful, which is why most people turn to travel agents for assistance. You must be a well organized person and computer savvy, able to coordinate a trip and find all the relevant information needed to make things easy for your clients. You have to be well versed in all countries, so that you can advise clients of weather conditions, what to take, what customs are common and the best local attractions to visit. Hotels and resorts also tend to offer special accommodation and flight packages through travel agencies, which many travelers like to make use of.
International travel agents must also be able to advise clients about passports and visas, exchange rates, and if any vaccinations are needed depending on their destination. Travel agents also provide assistance to clients during a trip, in case different accommodation is required or to make other arrangements.
To get inside information about airlines, hotels, and various countries, travel agents are normally required to visit these places, which travel agencies pay for. You will be required to evaluate the establishment so that you can provide your professional opinion when clients enquire.
To become a travel agent, the first thing you need to do is get formal training at a vocational school, which is full time, but you can also find travel agent courses online, at adult education centers and community colleges. The courses cover geography in detail, sales, and marketing as well as procedures for booking tickets and making reservations. A Bachelor degree in travel and tourism is an advantage if you want to become a travel agent.
Once you are qualified you can apply for jobs at any travel agency, or choose to be self employed and work for clients privately, in which case business experience in necessary. At a travel agency you will normally start out as a receptionist or reservation clerk until you gain more experience or complete your formal training. Once you have worked in an established agency, you can branch out and become self employed, however you will require formal approval from airlines and other corporations before you can start offering discounted rates and get credit. This approval comes from organizations like the International Airlines Travel Agency Network or The Airlines Reporting Corporation.
Travel agents can expect to work in offices most of the time dealing with clients, making reservations, contacting hotels and airlines, and filling out forms, sometimes working longer hours during peak travel times and holiday periods. Many travel agents can work from home nowadays due to the more advanced online booking technologies and the internet.
Your salary varies depending on your experience, the size of the travel agency, and where you are located, with the average annual wage being $31,389 excluding additional benefits. The owners of travel agencies will earn commission or service fees from clients for the trips they plan.
A travel agent is constantly learning and you will have to keep up to date on new travel information, new resorts and hotels, and new restaurants that have opened among other things, so that you can give your clients the most accurate information when planning their trip. You should have first-hand knowledge to offer, which means that plenty of travel opportunities will come your way while you are a travel agent!
Quick Travel Agent Employment Facts
Job Title: Travel Agent
Office: A travel agency office behind a desk, answering phones at a reservation call centers, or your home
Description: To assist travelers when planning a trip with accommodation, flights, car hire, and their itinerary
Certifications/Education: A Bachelor degree in travel and tourism is favorable with formal travel agent training required.
Necessary Skills: You must be well-organized, detail orientated, an excellent communicator, an accurate planner, and courteous when dealing with clients.
Potential Employers: Travel agencies, call centers, private resorts and airlines where promotions are offered, and self employed
Travel Agent Pay:
Travel agents earn between $31,389 and $56,830 depending on the location and bonuses offered. Keep track of the latest salary range information here:
Helpful Travel Agent Employment Links:
Search Travel Agent and Other Agent Jobs on JobMonkey
Travel and Tourism Jobs
The Travel Academy
Travel Agent Certification Training (TAP)
Online Travel and Tourism Program through Penn Foster
Airlines Reporting Corporation (ARC)
International Air Transport Association
American Society of Travel Agents
The National Association of Career Travel Agents