Become an Interior Designer
A keen eye for detail, color, shapes, lines, and of course style is just the first aspect in how to become an interior designer. While many people are born with these skills, others who aren't, but are passionate about interior design, have to work extremely hard to master these talents.
Interior design can be used in all kinds of ways, such as office and corporate designs, private interior design and decorating for homes, theater design, creating the inside of airport terminals, designing hotel suites, schools, hospitals, and even furniture design.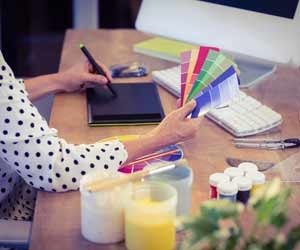 There is a huge amount of competition for these jobs, but also a huge growth expected in the employment sector with a 19 % increase in jobs over the next 7 years. While self employment is common among interior designers, various design companies will hire those who possess an associate or bachelor's degree and who work in a certain area such as commercial interior design or healthcare interior design. The three most common areas of interior design of late include elder design, which is the designing of homes and facilities for the elderly and those with physical disabilities. Then there is ergonomic design, which is all about creating a space that is simple and places less pressure on the body by making use of elements that correct posture. The third and probably most popular form of design is "green" design where environmentally friendly options are always preferred in the choice of paints, furniture, and energy efficiency.
The job is much more complicated than it looks and requires the correct use of color, lighting, furniture, accessories, texture, and use of space to create a beautiful interior. Many people simply throw items together which do not always work, and an interior designer can provide much needed assistance in this regard. Many people hire interior designers to create a specific type of mood in a space, whether it is warm and inviting, professional and corporate, or designed to make people spend more money.
In previous years, an interior designers' work ended with the detailing and decorating aspect of a room choosing a color palette and adding decorative features and furniture. Nowadays however, most interior designers have branched out into the more architectural side of things using crown molding, adding windows and doorways, arches, and helping with certain of the construction type elements of the home.
This is why interior designers must not only have an eye for detail and color, but also understand fire safety codes, and how to read blueprints. They frequently work together with the architects or construction companies building a home to ensure that the space created is perfect, even when it comes to enhancing a living space for a disabled person. They also make sure that electricians and plumbers are putting in the lighting correctly or fitting the correct type of taps and shower heads for a bathroom design.
The design process that interior designers follow is basically the same each time, starting with face to face meeting where a client and the interior designer will discuss the design. The client can express his or her wishes for the space and the designer and throw around some ideas after looking at the room in question.
The second step is to create a scale drawing of the space that is to be designed. Nowadays many designers and design companies use CAD (computer aided design), so you should learn how to use this if you want to become an interior designer. This program helps to create more accurate sketches and is much easier to change and adapt. This is then presented to the client along with the estimated budget to see what they think.
Once a design has been finalized, it is the interior designer's job to go out and collect the materials required including the paint, furniture, wall papering, accessories, fittings, and flooring. At the same time, they have to ensure that the room adheres to building codes if any structural work took place. They are also in charge of hiring and outsourcing to contractors for plumbing work, electrical work, or engineering work that is needed.
A large part of being an interior designer is being extremely well organized, because once the above steps are complete, the next phase is to coordinate everyone's schedules and create a timeline for the completion of the project. You will oversee the entire design working with all the sub contractors to ensure that the result you get is perfect.
The final step is to show the client your work and see how happy they are. This process covers designers working as part of a team for a design company or self employed interior designers where the expected salary can be anywhere in the region of $49,000.
Interior designers can also work at department stores of home décor outlets where you will be on hand to assist customers with their design choices. You will also be required to sell products and are usually paid an average salary of $41,000 with commission often offered for sales.
Sometimes specialized design services, such as kitchen remodelers and designers, are required where you will earn approximately $45,000.
Becoming an Interior Designer
So, how do you become an interior designer? Well, the most important thing is to further your education. Most employers prefer interior designers to have a degree and some States also require you to be licensed. The normal degree that is available for interior design takes between 2 and 4 years to complete and if you graduate from a 2 or 3 year course you will be fully eligible to work as a design assistant. A bachelor's degree allows you to apply for a formal design apprenticeship that normally lasts 1 to 3 years to gain valuable experience in the interior design field. To apply at a design school you will be asked to submit a sample design. If you are selected, your coursework includes basic drawing, CAD, perspective, color, spatial planning, fabrics and texture, furniture design, psychology, architecture, and ergonomics, as well as ethics.
In states where you are required to be licensed, you must have experience combined with post secondary education totaling 6 years. This license is administered by the National Council for Interior Design Qualification and once you have completed the exam, you will be known as a Registered Interior Designer, Certified Interior Designer, or a Licensed Interior Designer. 
To become an interior designer requires a lot of talent, with perseverance being the key to success, but in the end it will be worth it when you are able to have fun designing amazing rooms and shopping for a living.
More Interior Designer Salary Information
Quick Facts About Interior Design Positions
Job Title: Interior Designer
Office: At various locations where you are designing, as well as in your office.
Description: An interior designer uses their creative skills to design and decorate beautiful spaces using all different elements for various purposes, whether it is a private living room, a child friendly medical center, or a school library.
Certifications/Education: Aside from getting a bachelor or associates degree in design, a business course is recommended for those who want to start their own interior design companies. You can also get a degree in kitchen and bath design from the National Kitchen and Bath Association.
Necessary Skills: As an interior designer you will need to be creative and able to communicate clearly verbally and in writing. You must be a problem-solver, have the ability to work under stress, handle money efficiently, be self disciplined, and always stay up to date on the latest design trends.
Potential Employers: Design companies, healthcare institutions, hotels, schools, and private homeowners.
Pay: The median salary for interior designers is $45,000 broken up into the following sectors:
Architectural, engineering, and related services – $49,290
Specialized design services – $45,470
Furniture stores – $41,080
Building material and supplies dealers – $40,040
Helpful Interior Designer Employment Links:
Search Interior Designer Jobs on JobMonkey
The National Council for Interior Design Qualification
The Interior Design Society
School of Interior Design
International Interior Design Association
National Kitchen and Bath Association
National Association of Schools of Art and Design