How To Work For Disney
Disney – the name inspires such awe and sentiment, automatically reminding you of your childhood. Well, what if you could actually work for Disney?
It could be, a dream come true! With such a large corporation, which started out in 1923 as a cartoon studio, there are no shortages of Disney jobs. They range so drastically that anyone can find their dream Disney job just about anywhere in the world.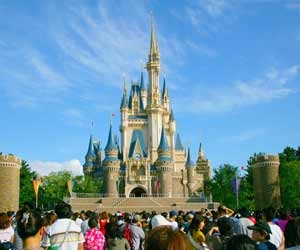 To work for Disney means that you could be leading a group around a Disney theme park, working in the offices handling administration, making Disney video games, working in a retail environment, working in hospitality, entertainment or IT at Walt Disney World Resorts, working on the Disney Cruise Line, working at Disneyland Resorts, or making movie magic. Within Disney's movie industry alone there are hundreds of different job opportunities including producing, directing, acting, crew, sound engineering, animation, and costume design.
Walt Disney World Resorts offer various paid internship and college programs which allow people from all over the world to work for them, getting a foot in the door, so to speak. The college programs are for graduates and undergraduates with emphasis on those involved in a Master, J.D., PhD, or MBA program. Internship opportunities are as follows:
Year-round Programs – where undergrads work a total of 16 to 20 hours a week during the school year and full time during holidays.
Summer Programs – offer full time work for 10 – 12 weeks during the summer vacation for undergrad and graduate students.
Semester-Long Programs – offer full time or part time work for both undergraduates and graduates during the fall or spring.
Co-op and Post Graduate Programs – are usually held between January and June or July and December where graduate students work on a full time basis.
Rotational Programs – run for 2 years and are for those who have graduated with an accountancy or business
Walt Disney World Resorts also holds regular auditions for people to join the team working on various rides and theme park activities as well as putting on live appearances as beloved Disney characters. Disney is in fact one of the largest live entertainment companies in the world. There are specific requirements about your looks and you should be available at least 2 or 3 days a week if you work on a part time basis. To work in this sector you should check out the audition and casting calendar as there are sometimes open casting calls that you can attend, or closed ones if you are part of a talent agency.
Additional Walt Disney World jobs include:
Airport Representative
Attractions
Bell Services
Bibbidi Bobbidi Boutique Hostess
Bus Driver
Costuming & Cosmetology
Culinary
Custodial
Entertainment
Front Desk
Housekeeping
Laundry Services
Lifeguarding
Luggage Representative
Maintenance
Merchandise
Quick Service
Food & Beverage
Disney's PhotoPass Photographer
Recreation
Reservation Center
Security
Table Service Food & Beverage
Transportation
Vacation Planner
Walt Disney Animation Studios offer student programs for aspiring animators and hire animators based on the level of knowledge they have using certain programs like Maya and Photoshop along with proficiency in 3D environment development, character modeling, object modeling, graphic design, texture/shading, storyboarding, and character rigging, among other skills. A Bachelor of Fine Arts or BA in engineering, arts, computer science, or mathematics is preferred for these positions as well as for design jobs offered through the Disney Interactive Media Group. To work for Disney animation you can simply apply on their website.
If working for Disney is your dream, then you will find that there are literally hundreds of options you have, no matter what industry you are involved in.
Work for Disney Quick Facts
Job Title: Disney Employee
Office: All over the world at Disney resorts, companies, movie studios, cruise ships, and more
Description: Uphold the Disney name and image with any job that you get at Disney
Certifications/Education: Dependant on the type of job you get at Disney with careers ranging from acting and producing, to engineering, and IT, as well as hospitality and animation all of which require specific degrees and training.
Necessary Skills: Effective written and verbal communication skills, team player, analytical, computer proficient, good project manager skills, the ability to build good relationships, able to manage expectations, detail orientated, motivated, problem solver, business minded, able to multi task, facilitate, meet deadlines, represent the Disney image at all times, be friendly and more.
Potential Employers: Disney ABC Television Group, ABC Owned Television Stations, Adventures by Disney, Corporate, Disney Consumer Products, Disney Cruise Line, Disney Interactive Media Group, Disney Regional Entertainment, Disney Theatrical Group, Disneyland Resort, El Capitan Theatre, ESPN, Inc., International Operations – Asia, International Operations – Europe, International Operations – Latin America, Publishing, The Walt Disney Studios, Walt Disney Animation Studios, Walt Disney Imagineering, and Walt Disney World Resort
Pay: At Walt Disney Resort you are looking at earning $7.45 per hour on a full time, part time and seasonal basis. Food and beverage or Outdoor foods jobs allow you to earn $7.95 per hour with security jobs paying $9.94 an hour. A bus driver at the resort earns $10.55 per hour with a character performer making $9 per hour, and guest service consultants and culinary jobs paying $8.75 to $8.80 per hour full time. Obviously in the movie and TV industry Disney pays large sums of money to the actors and directors, which all depends on the type of project and budget allocated.
Helpful Disney Employment Links:
Search Disney Jobs on JobMonkey
Walt Disney Internship Listings
Disney Interactive Studios Job Openings
Disney Studios Job Openings
Disney ABC Television Group Job Openings
Disney Cruise Line Jobs
Disney Parks & Resorts Job Openings