Become a Medical Doctor
Do you want to help people get better? Do you want to save their lives? Well, if you can handle the pressure and a bit of blood, then becoming a doctor might just be for you. There are different kinds of doctors including surgeons, physicians, pediatricians, and general family practitioners. Each has their own set of challenges, working conditions, working hours, and job description.
While becoming a doctor might sound easy, there is a rigorous schedule facing you right from university through to becoming a resident and eventually being able to perform surgeries and see patients on your own. It takes years of perfecting certain skills and learning about every single disease, symptom, and medication there is. You can find work in hospitals, which is where you will start out as a doctor, and after you have more experience you can look for work in a medical center or at a clinic.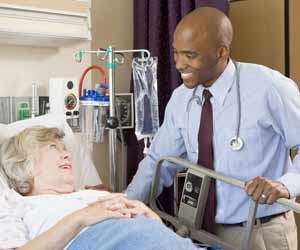 In the medical field you can get two types of doctors, namely a Medical Doctor, or M.D. and a Doctor of Osteopathic Medicine or a D.O. An M.D. uses medicine and surgical treatments more exclusively, whereas a D.O. will employ techniques of the human body's musculoskeletal system to heal along with medicine.
This is a physically and mentally demanding career, where you will work long and irregular hours, especially as a resident. In 2008, it was found that 43 percent of all doctors worked over 50 hours a week. When you are on call, you usually answer patient calls and make emergency visits to nursing homes and hospitals. You need to be able to think clearly under intense pressure and fatigue to save a person's life if necessary. This is generally if you are a trauma surgeon or operate on patients who are critical, but part of a surgeon's job is also to perform delicate surgeries on patients who have kidney stones or perhaps to cut out a cancerous tumor.
A physician's job will be to meet with patients and take a comprehensive medical history, perform diagnostic tests, examine patients, and council them on the most appropriate measure to take for their health including correct diet and fitness regimes. A family GP or general practitioner will usually see patients with colds and flu type symptoms and other minor ailments, however they have to be alert to any potentially life threatening diseases and refer patients to hospitals when necessary. 
A doctor can specialize in an area of medicine, and become pediatricians for example. These are baby doctors and have chosen this specialty in order to work exclusively with infants, children and teenagers helping to save their lives and ensure that they are growing properly and are healthy. Other specialties include anesthesiology, psychiatry, gynecology, and obstetrics among others.
The working environment of a doctor is generally within a hospital or medical center, but many doctors choose to go into rural areas and countries where medical treatments is required in small villages. This means that working conditions can be quite basic and not as sterile as a hospital. Physicians and specialty doctors usually work in small offices assisted by nurses, and many nowadays are opting to form groups to allow for more coverage when a doctor has to take some time off.
So, how do you become a doctor? Well, the first step is to get good grades at high school in mathematics, science, and biology and then apply for a position in a medical school or university program. The competition for getting into one of these medical schools is fierce, and once you have been accepted you will have to work extremely hard. Typically 4 years of undergraduate school is required, where you will study biology, physics, mathematics, English, humanities, and chemistry. You will then attend medical school for 4 years. To do this you have to produce transcripts and test scores from the Medical College Admission Test, along with recommendations. The first 2 years are spent studying biochemistry, anatomy, physiology, microbiology, pharmacology, psychology, pathology, medical ethics, and medical governing laws in classrooms and laboratories.
During your final two years in medical school, you will work with patients under the supervision of an experienced doctor in hospitals and clinics, where you will learn preventative, acute, chronic, and rehabilitative care. After medical school you can expect a full 3 to 8 years of residency. If you are studying a D.O. program then a 12 month rotating internship is required before becoming a resident. All states also require doctors to be licensed.
This is done through the United States Medical Licensing Examination (USMLE) and for D.O's the Comprehensive Osteopathic Medical Licensing Exam (COMLEX) is to be completed. If you want to become board certified in a specialty you will most likely be required to spend 7 years in a residency program.
To become a doctor, as an undergraduate, it is recommended that you volunteer at hospitals and medical centers to get some on the job experience and learn what it is like in a healthcare profession. A bachelor degree is the lowest requirement for attending medical school, but most applicants have a high level of education. When you are looking for a medical school, the Liaison Committee on Medical Education (LCME) is the place to look. They have over 129 accredited medical schools listed where you can get an M.D. degree. The American Osteopathic Association is the place to look for accredited schools that offer a D.O. degree.
Once you have completed your studies you stand a good chance of employment, due to the growing demand of health care facilities for the aging population of baby boomers. The number of medical jobs are expected to increase by 22 percent over the next 7 years with the pay dependant on the type of medical specialty you possess, as well as where you work. According to the Medical Group Management Association's Physician Compensation and Production Survey general primary care doctors earn an average annual salary of $186,040, while those who specialized in an area of medicine earn an annual average salary of $339,738.
Quick Facts About Doctor Careers
Job Title: Doctor
Office: Hospitals, offices, medical centers, rural villages, and nursing homes
Description: A doctor uses medicine and various treatments to help cure patient illnesses and disease to make them healthy again, both physically, as well as mentally.
Certifications/Education: A 4 year undergraduate degree is required, followed by a 4 year medical program, and then a 3 to 8 year residency. A doctor is required to have a license to practice medicine.
Necessary Skills: To become a doctor you need to be a stable person with good communication skills and have a passion for helping people. You need to work well under pressure and decisiveness in emergency situations is very important. Continuous studying is required of doctors throughout their careers to stay abreast of all medical advances.
Potential Employers: Government, federal, and state healthcare facilities are often the first place doctors look for work, but you can also be employed in private hospitals, clinics, medical centers, private doctor practices, and out-patient centers. You can also be self employed.
Pay:Self employed doctors earn more than salaried doctors, but the pay is determined by your experience, geographic locations, hours you work, where you work, skill, and your professional reputation. The median annual salary for a doctor is $300,000.
Helpful Medical Doctor Employment Links:
Search Medical Doctor Jobs on JobMonkey
Liaison Committee on Medical Education
American Osteopathic Association
Medical College Admission Test
United States Medical Licensing Examination
American Medical Association