Become a Nursing Assistant
Have you always wanted to care for the sick? Then you should think about becoming a certified nursing assistant, or CNA.
A certified nursing assistant helps to care for the sick, injured, and disabled working in a variety of healthcare facilities. The primary aim is to assist doctors and work directly under the registered nurse when it comes to patient care, being responsible for administering medication, taking blood samples, cleaning and washing patients, changing dressings, helping to feed patients, and more.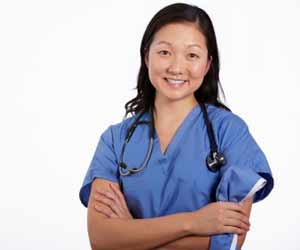 There is a huge demand for nursing assistants due to the baby boomer generation becoming older and requiring more medical care. Like nursing jobs the number of CNA positions is expected to rise by 18 percent over the next 7 years. Aside from the increasing number of elderly member of the population, the increase in jobs is also partly because of the financial burdens facing large hospitals of late. The lack of funding is forcing them to send patients home or to nursing homes quicker, where many still require nursing care. While most of the positions are offered in hospitals, nursing homes and residential health care facilities, a certified nursing assistant can also find part time work in a private capacity looking after people in their homes, or you can work in a private doctor's practice.
To become a CNA you will be required to have a high school diploma, with the additional qualifications being dependant on where you live, what your state laws demand, and according to your specific occupation within the realm of being a CNA. You will generally start off at an entry level position with low pay and long hours, but if you are willing to stick it out, there are tons of opportunities for you as an experience nursing assistant working for private facilities and even for private individuals, taking care of them at their homes. If you work with patients who require medical care on a term you are known as a direct nursing assistant.
Other names that a CNA can go by include: Nursing aides, nurse aides, geriatric aides, nursing assistants, unlicensed assistive personnel, hospital attendants, or orderlies. The job description can include many tasks, not all of which are linked directly to patients. While you are responsible for looking after and monitoring your patients, reporting to the doctor, and making them comfortable, you will also be required to store supplies, pack and unpack equipment, deliver messages, tidy rooms, serve meals to patients, and set up procedure rooms.
Depending on where you work, you will have other tasks to perform. For example, as a geriatric nursing assistant you will need to help your patients eat and dress at times. As a psychiatric nursing assistant, you will be required to play cards and other games with patients to help develop their social skills. You will assist with education and recreational activities, sometimes even just watching TV with a patient.
So, how do you become a certified nursing assistant? Well, the first step is to check what training programs and courses are available in your area. The training courses can be offered at high schools, vocational schools, community colleges, and at some nursing centers or medical facilities. The courses teach many skills including anatomy, body mechanics, physiology, nutrition, infection control, resident rights, and communication skills, along with various personal care skills, such as helping patients to eat, bathe and groom themselves. If you want to become a psychiatric nurse, some States expect you to complete a formal training program, although you will learn most of what you need to know on the job from a licensed and experienced CNA. Some employers also offer a classroom setting when you just start out to give you additional training, but others simply allow you to learn as you go under the guidance of a senior, licensed CNA.
To become a certified nursing assistant, you have to pass the certification as set out by the Federal Government. You do this by completing a State approved training program that covers at least 75 hours, and you must pass a competency exam. Once you have done this, you will be known as a CNA (certified nursing assistant) and you are placed on the State Registry of Nurse Aides.
The next step is to get your health checked. Most CNA's are asked to get a physical examination just to assess their overall health and to test for any State regulated diseases, such as TB. A criminal background check is also performed when you apply for nursing positions.
Now you will need to start looking for work. If you are thinking about advancements in your line of work, you will need to know right from the word go, that there is not really room for advancement. From a CNA, the only other jobs are as a registered nurse, licensed practical nurse, or as a medical assistant.
So, you have the determination and the training, and now all you need is to know what to expect on a daily basis. Well, the first thing to note is that a CNA will need to be fit and healthy physically, emotionally, and mentally. There is often a lot of lifting and carrying, with long hours spent on your feet. You need to guard against back and neck injury, as well as risk of infection from diseases by following all the correct procedures that you have learnt. You will often get tasks that are unpleasant, such as emptying bed pans and changing soiled bedding, but you must be prepared for this. There are lots of unexpected occurrences on a day to day basis and you never know what can happen while you are working, so you always need to be ready.
Working hours are usually 40 per week, but many certified nursing assistants work longer hours and over weekends, as their patients might need round-the-clock care. Shift work includes working nights, weekends and holidays. In a hospital, the day and night staff will alternate so that it is fair on everyone.
There will be plenty of job opportunities in this field as it is not always a popular option. This is largely because of the many demands emotionally and physically, along with the lower pay which averages annually $12.65 per hour with psychiatric assistants earning a little more at $13.78 per hour.
So, if you are interested in a profession where you are proud to go to work every day and where you get to help people, then becoming a certified nursing assistant (CNA) is an ideal choice.
Quick Certified Nursing Assistant Employment Facts
Job Title: Certified Nursing Assistant (CNA)
Office: Hospitals, nursing homes, medical centers, usually near to patients, but also at a nurse's station.
Description: Your primary job is to look after patients according to the specifications of a doctor.
Certifications/Education: A high school diploma is required with a state certification that you can get once you have completed the 75 hours of training.
Necessary Skills: Certified nursing assistants are dealing with sick people and should therefore be tactful, understanding, patient, dependable, emotionally stable, be team players, excellent communicators, and be willing to repeat routines and tasks each day.
Potential Employers: Hospitals, nursing homes, medical centers, cruise lines, assisted living facilities, adult foster care homes, and private individuals.
The breakdown of certified nursing assistant pay by industry is:
Employment services – $12.10
General medical and surgical hospitals – $12.05
Nursing care facilities – $11.13
Community care facilities for the elderly – $10.91
Home health care services – $10.58
Psychiatric certified nursing assistants in the following industries earn:
Psychiatric and substance abuse hospitals – $13.43
General medical and surgical hospitals – $13.29
Nursing care facilities – $11.66
Individual and family services – $10.78
Residential mental retardation, mental health and substance abuse facilities – $9.89
Helpful Certified Nursing Assistant Employment Links:
Nursing Employment Opportunities on JobMonkey
American Nurses Association
Nurse Aide Registry List