Best Cities for Non Profit Work
While nonprofit organizations exist everywhere that there is a need – a let's face it, that's everywhere – there are some cities in the United States that offer even more opportunities and vibrant and thriving nonprofit communities. Most of these are urban areas, where more nonprofit organizations exist and are therefore in need of nonprofit workers.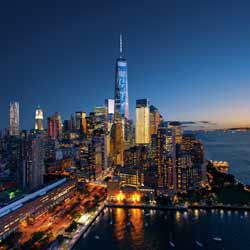 New York City
As you may have guessed from reading through Non Profit Jobs section of JobMonkey, New York City has a vast array of nonprofit opportunities for any jobseeker. From education to environment to the arts, most major nonprofit organizations have offices in the Big Apple (like the Salvation Army, Greenpeace and the American Red Cross), and the local need is so high that small and medium nonprofit organizations set up shop in the five boroughs. While the cost of living might be high, it is still possible to live in a nonprofit salary if you are smart and willing to do a little extra research. And if you are looking for a nonprofit arts job, you can look no further than Soho and Museum Mile, where there are more museums and arts organizations than office buildings!
Best for: Nonprofit Arts Jobs, Nonprofit Human Services Jobs
San Francisco
San Francisco is always on the cutting edge of socially progressive movements; the active nonprofit community in the Bay Area reflects this commitment to social change. Unfortunately, the area has been challenged with issues of housing and homelessness for decades. But this has resulted in some of the most innovative social services in the country. In addition, San Francisco's location along the coast and close to the Sierra Nevada make it testing ground for many environmental and wildlife conservation groups. In addition, San Francisco's proximity to the Silicon Valley makes offers great opportunities for nonprofit job hunters interested in technology.
Best for: Nonprofit Environmental Jobs, Nonprofit Technology Jobs
Washington D.C.
Washington D.C. might be known as a politician's playground, where there is policy being made, there are also nonprofit organizations anxious to be a part of it. Arts organizations, educational organizations and human services organizations can all find a place in Washington D.C., especially those with active government relations and policy research departments. Also popular in Washington D.C. are jobs in foundations and philanthropy, since many grant giving organizations set up office close to Capitol Hill.
Best for: Nonprofit Advocacy Jobs, Philanthropy Jobs