Volunteering With a Non Profit
If you're interested in finding a nonprofit job, you might be wondering where to start. Maybe you are just curious, and you aren't yet ready to leave your current job for the public sector.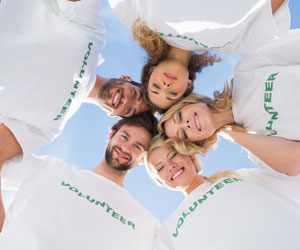 Perhaps you aren't quite sure what kinds of jobs there are in the nonprofit world. There are ways to become involved in a cause that you are interested in before you take a nonprofit job.
Volunteering is a very popular way to become involved with nonprofit organizations. Volunteers perform all types of duties and take on a variety of roles within an organization:
"Hands-on" Volunteers
Hand-on volunteer is the most popular kind of volunteer, since volunteers want to see their impact on the people served by the nonprofit organization. Hands-on opportunities include building houses for Habitat for Humanity, working at a soup kitchen, tutoring at-risk youth or working at an animal shelter. Hands-on volunteering is great for groups of volunteers from schools or faith-based organizations, and can be done once in a while or on an ongoing basis.
Special Event Volunteers
Special event volunteers for nonprofits can take on a variety of roles: you might be handing out water at a 5k run, or setting up for a fundraising gala dinner. Special events are often a success based on the amount of support that a nonprofit organization has behind the scenes. This makes volunteers and invaluable part of the process. If you have any special event experience and are looking to get involved in a local nonprofit organization as a volunteer, find out about any upcoming special events that they might need help with!
Administrative Volunteers
Many smaller nonprofits have budget constraints that might limit the capacity of their administrative staff. Donors tend to give money directly to programs, and fundraising can be difficult for use for administrative purposes. Volunteers who are willing to do daily office tasks like filing, copying, and accounting can be invaluable to nonprofit organization. However, it is important as a volunteer to be able to commit to a set schedule over the long term, since administrative volunteers are often depended upon to do essential daily tasks.
Board of Directors
While many organizations recruit their board of directors from within the organizations, sometimes they will look for volunteers from the community to fill positions on the board.
If you have special skills that a board is lacking (like a law background, financial experience or fundraising skill) you might be a beneficial part of a nonprofit board. Board recruiters also look for people who are connected and can help gain support either through fundraising or awareness building. If you are interested in becoming part of a nonprofit board as a volunteer, you should approach the Executive Director or Development Director for more information.
Most nonprofit organizations rely heavily on volunteer support. To find out about volunteer opportunities in your area, websites like VolunteerMatch.org can be a great resource to help you get going.