Grant Writing Jobs
Grant writing is an incredibly versatile career; grant writers are in charge of writing proposals to foundations, government agencies and other organizations that might provide funding to your nonprofit organization.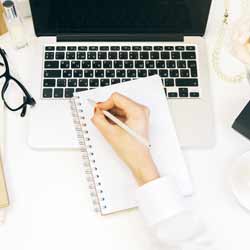 The grant writer, in many cases, provides a voice for the programs and services provided by a nonprofit organization.
There are a number of important skills that one should possess as a grant writer:
Writing Skills: This may seem obvious, but writing and communication are absolutely essential for grant writing. Types of writing work experience may vary, and many people ask, "What kind of major do I need to become a grant writer?" While there is no specific grant writing major, a background in writing including Journalism, English and many liberal arts degrees can be helpful as a grant writer.
Research Skills: While writing is a key component of being a grant writer, research skills are just as important. You'll need to ask a lot of questions in order to gather information about the organization and report it to the funding agency. Many grants and foundations are very particular about the type of information they want and how they would like it presented; as a grant writer, it is your job to make sure that the grants follow all directions and are as competitive as possible.
Communication Skills: More than simply written communication, verbal communication skills are essential as you'll have to speak with members of staff and other experts are you research your grant and pull it together. Grant writing involves meetings, teleconferences, lots of emails and any other communication method you can think of. You'll need to become comfortable with all of these media in order to be a successful grant writer.
Flexibility: Grant writing is a fast-paced and deadline driven career. You might be researching a program that has changing participants and structures, and you might need to track down data from a number of different people. You'll need to remain flexible as a grant writer in order to meet the demands of a number of people and departments, while still keeping your focus on writing a clear and comprehensive funding proposal.
Writing a winning grant proposal is obviously the goal of the grant writer, but it is also important to become part of the organization, if you are a full-time employee. Talk and interact with the people on the program side of your nonprofit to maintain a relationship that does not just come up when you have a grant proposal deadline.
As a grant writing consultant or contract employee, this can be more difficult since you may not have the kind of daily access to staff members that you would otherwise. However, sending a friendly email introduction and keeping up communication can make the information gathering process much easier in the long-run, and making your grant writing more successful.
If you're thinking of becoming a grant writer, think about whether you have all of these skills and of course, that you have a desire to become and integral part of the nonprofit fundraising process. Knowing your own strengths as a writer and communicator will help you to become a successful grant writer.