Write a Winning Grant Proposal
We've talked about full-time grant writing jobs and fundraising jobs, but for some nonprofit organizations, writing a proposal for funding is everyone's job.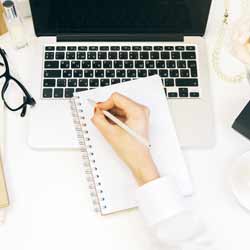 A funding proposal (also known as a grant proposal) is usually submitted in response to a Request for Proposals from a foundation or government agency that makes funds available for certain programs.
The task of writing a successful grant proposal can fall on anyone from the executive director to the summer intern. In many cases, many different people are going to be responsible for writing a just one piece of the grant proposal, with one final person charged with pulling it all together.
If the person pulling everything together is you, don't panic. Virtually every grant proposal contains the same basic elements. If you work on perfecting all of these basic elements, while paying special attention to the specific requirements of the Request for Proposals, you will have increase your chances of writing a successful grant proposal.
The major components of basic grant proposals are listed below, and you can use the categories as a grant proposal template:
1) Executive Summary – The Executive Summary is the overview of everything that you are proposing in your grant proposal. You should emphasize your main points, and put them within the context of your organization. In some cases this might be the first introduction that this funder has to your organization as an entity, and your executive summary should be clear and concise; you have the rest of the proposal to flesh out these ideas and give more specifics. The Executive Summary is the first part of the grant proposal that funders should see, so special attention should be paid to word choice and tone (which should be consistent with your organization's style, as well as the content of the rest of the proposal).
2) Organizational Information (History, Structure, Programs Offered) – The organizational information should outline the history of your organization, the participants that it serves, the programs that it offers and any highlights, awards or other important features. This is one section that most organizations keep as a "boilerplate", which can be reused for multiple proposals, which can help you compile and write your grant proposals quickly. Organizational information should serve as the section that convinces the funder that you are right organization to carry out your proposed program.
3) Statement of Need – The Statement of needs isn't about your organization, but about the people or "consumers" that it serves. The Statement of Need should answer the basic questions:
– Who needs this project?
– Why do they need it?
– Why can't they get it elsewhere?
Knowing the answers to these questions and being able to express them clearly will help you not only write a better grant proposal, but will help you to pull together your program in general.
4) Goals of the Proposed Program – The Goals of the Proposed Program section should serve to show two things: that you have attainable, measurable goals for your proposed project or program, and that these goals align with those in the Request for Proposals. A great way to see that your program goals are not only in sync with those in the request for proposals, but with the funding organization, is to check out the organization's website at Form 990 (which can be accessed on Guidestar.com). The 990 will tell you what other organizations this foundation is funding, and by how much. Government agencies don't have to file form 990s, but their funder information is generally listed on their website, and should be publicly available.
5) Methods of Carrying Out/Evaluating the Proposed Program – This is where the real magic happens when you are writing a successful grant proposal. Funders want to know that the project or program that you outline in your grant proposal is going to be successful, and that you are able to measure that success. In this section, you will need to explain the methods by which you are going to evaluate success: be specific and be thorough!
6) Other Sources of Funding – Finally, your winning grant proposal will need component that speaks to sustainability. Funders want to know how you are going to pay for this project or program outside of the funding that you are asking for when you write a grant proposal. You can list other grants that you have one, individual donations and any other information relevant to your finances as an organization or agency.
When you are writing a successful grant proposal, it is important to touch upon all of the points outline here, as well as paying close attention to the specific needs and instructions coming from your potential funder. This is a sure way to make your funding proposal a triumph.