Hospice Nurses
Pay for hospice nurses is average although it can be slightly higher than for other home health positions. What are the common responsibilities?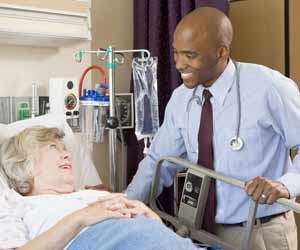 A hospice nurse provides comprehensive physical, psychosocial, emotional and spiritual care to terminally ill patients and their families.
The advantages of being a hospice nurse is that these nursing jobs are most often home based, allowing for some flexibility of schedule, and you get to be involved with entire family systems. Another advantage is that you usually work on a team basis and have access to the resources and knowledge of other professionals including social workers, clergy, meals on wheels providers, etc.
What are the disadvantages? Hospice nurses are exposed to all sorts of environmental conditions in home care work. There's the vicarious traumatization from the continual deaths of patients. Finally, depending on the agency for which you work there's the possibility of on-call work.
To be a successful hospice nurse you'll need to possess an ability to recognize a need for and take steps to obtaining personal support in order to prevent burnout. Being able to set strong personal boundaries is important. And you'll need to have a willingness to try to understand and support individuals in their cultural contexts around decision making at the end of life. Finally, excellent listening and communication skills contribute to a good experience in this type of nursing career.