Types of Nurses
There are many different kinds of nurses, each specializing in areas of patient care. On JobMonkey we focus on nurse anesthetist jobs, hospice nursing, mental health nurses also known as psychiatric nursing, traveling nurse jobs, school nurse jobs, and nurse executive careers – plus a few other specialty areas of nursing.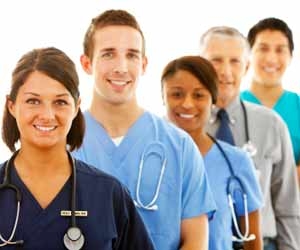 We don't cover it here, but investigate certified nursing aide jobs, which require much less education.
The following pages highlight a number of desirable positions in the nursing field:
One thing is true about all of the different nursing job categories: they all require specialized training, career specific education, and licensing.Later in the nursing careers section of JobMonkey you'll learn about nursing schools and how to choose the best one given your preferred focus.
Because of the nursing shortage it's not hard to get a job once you have completed your nursing program and passed the required licensing examination. What you need to do is determine what kind of nurse you want to be, your preferred work environment (hospital, clinic, school, etc.), and generally the nursing career track you want to follow.
Learn about some of the most common nursing jobs on the pages that follow and then get nursing job search advice and tips later on, from resumes and cover letters to interviewing for nurse jobs.