Positions at Summer Camps
Again, summer camp jobs are some of the most varied you'll find in the job marketplace because summer camps themselves are all very different from one another. When you're job-hunting, think about your specific skills in order to find the position that is perfect for you! Here are some of the main types of summer camp jobs: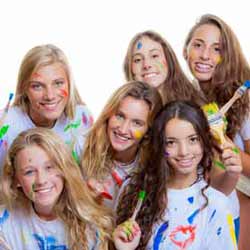 Summer Camp Counselor Jobs
By far, the counselors are the people who have the most interaction with the attendees of the summer camp. At many camps, you'll find that counselors will be past campers who've returned to work for the camp they loved as a child. This is usually a seasonal position, but one that is around-the-clock work. As a camp counselor, you'll be responsible for keeping campers on schedule with activities, settling arguments between campers, making sure everyone is as safe as possible, and leading camp activities. Every camp is different, so your role as a summer camp counselor may be greater at some camps than it would be at others. To learn more about camp counselor jobs click this link!
Summer Camp Nurses
Every camp will have at least one nurse on call at all times in order to make sure the camping experience is safe for everyone. At smaller camps, the nurse may simply be a counselor with additional responsibilities while at larger camps, there are multiple nurses on staff during the entire summer. This is also usually a seasonal position and one that is around-the-clock. To be hired as a summer camp nurse, you must be a certified LPN or RN. Some camps also hire part-time nursing help; for those positions, nursing students are sometimes hired, even if they do not yet have a degree.
Summer Camp Administration
Someone has to take care of a camp's budget, plan events, and make sure campers (and their parents!) are happy. Just like most businesses, a summer camp must have administration. The big cheese is usually called the camp director and is equivalent to the CEO of a company. Under the director, various management positions are available, although they vary with the size of the camp. In most cases, summer camps have a CFO, who may also be called an account director, to handle the camp's finances and a public relations director to deal with press releases, the media, mailings, and camper relations during the offseason. Larger camps may have a board of directors, while administrators at smaller summer camps multi-task in order to fill many roles. Unlike many summer camp positions, administration jobs are usually full-time year-round positions.
Summer Camp Lifeguard Jobs
If swimming will be involved at a summer camp, laws require a lifeguard to be present. Some summer camps have their own pools, while others at located near a lake or ocean. In any case, lifeguarding at a summer camp is usually no different than lifeguarding at a typical pool or beach. Lifeguards must meet state regulations, which usually include CPR and first aid certification and special training. This is a seasonal position, and in some cases, camps only have a need for a single lifeguard once or twice a week. Again, every camp is different.
Camp Groundskeeper
Although some themed summer camps take place solely indoors, most summer camps are based on living in nature. A groundskeeper is necessary to mow grass, rake leaves, clear hiking trails, winterize the grounds, pick up trash, and do many other kinds of yard work. Most camps have a head groundskeeper who works year-round either full- or part-time, and if the camp is large, the groundskeeper may have a seasonal maintenance crew working under him or her. This position requires physical labor and lots of time outdoors, so make sure you are able to do the job before you apply. As the groundskeeper, your tasks will change from day to day and can include all aspects of making sure the camp looks nice and stays safe for campers and other workers. Light carpentry work may also be required.
Summer Camp Custodial Jobs
At some summer camps, a custodial crew is necessary. At other summer camps, the groundskeeper does this job. Custodial crews clean the cabins and buildings during the summer season, with the busiest time being the week or two after the campers go home. Typical job duties include emptying the trash, cleaning bathrooms, sweeping the floors, and washing the linens. The custodial crew at a summer camp is similar to that at a school, so if you apply for this job, remember that you will be dealing with children's messes.
Summer Camp Kitchen Staff
Campers have to eat, so most camps hire a kitchen staff to produce daily meals. The number of cooks hired depends on the number of campers and workers. At many camps, two shifts of cooking jobs need to be filled. Like the custodial workers, kitchen workers at summer camps are similar to kitchen workers at schools. You'll be in charge of three meals a day, and usually a snack in the afternoon. The meals at most camps are served either buffet-style or with one to three daily options. Don't forget, you'll be cooking for the workers as well, and you'll also be responsible for clean-up.
Special Summer Camp Counselors
Most camps provide daily activities like crafts, outdoor games, music, and so forth. For these jobs, a camp typically hires someone with these skills to lead the campers, although these duties may also fall under the responsibilities of the regular counselors, especially at smaller summer camps. Themed camps, like computer camps, hire multiple special counselors every summer.