Chef and Cooking Jobs
"Food, glorious food…," "If music be the food of love, play on…" These phrases are not only meant for the movies or stage. You too can create the glorious food that will entice and excite people.
To land a cook or chef job takes talent and determination, but is a fulfilling and highly rewarding career choice. If you have a passion for food, then there are tons of well paying hospitality industry and catering jobs out there just for you. Whether it is to be a head chef, a pastry chef, the chef manager or any other kind of assistant cooks, you will need a certain talent and flair for creating interesting and mouth watering cuisine. You can choose to work in various places as a top chef and you can become a restaurant chef, hotel chef, enjoy catering jobs, and cook jobs in retail. There are tons of choices you have and many chef job opportunities that are available no matter where you live in the world.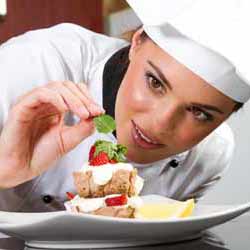 In this section of JobMonkey you'll learn about:
The top chefs all over the world start out working in small pubs or restaurants, normally as an assistant. Eventually, if you are good enough and work hard enough, you can get to the top restaurants and hotels to work as the head chef, or you can branch off and become a personal chef to a celebrity, which is far less stressful and pays a very high salary. Every chef or cook has their own special skills and trademark when cooking and you will need to explore and find out what this is, in order to make your way in the cut throat catering business. The more unique and delicious your food is, the more people will love you and come to your restaurant or hotel to taste your food. A head chef or chef manager with a solid following of happy customers and will enjoy a great chef career.
— Search Chef Job Listings Here —
You are taught all about the food preparation industry and how to be a hotel chef, restaurant chef, assistant cooks, and work in the hospitality industry. You are given lessons about kitchen etiquette, service, presentation, technique, food combinations, and more. Cooking jobs are not necessarily easy to get, and you will be competing with other equally talented chefs for a position. You have to be the best of the best and prove yourself more than worthy to get a chef job at a five star restaurant or hotel.
Catering jobs are just as tricky and you will need to show that you can work in a team with others and produce top quality food in bulk for events like weddings, corporate functions, large scale parties and more. Being a chef manager or head cook is not the easiest job in the world, and while you have to stun and amaze people with your sumptuous food, you also have to deal with running a kitchen full of cooks and assistants, stay calm under pressure and control everything in your kitchen. Your chef career depends on you getting on with others in your kitchen, even though many chefs find this the hardest part of all. Besides having an eye and nose for what foods go together perfectly, your chef job will involve meeting and working with others to get your food out on time. As a head chef you are the leader and in charge of making sure everything is prepared perfectly and on time. The chef manager also has this responsibility.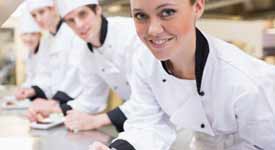 Types of Chef Jobs
There are countless types of chef jobs and careers in the world today. Follow these links to get the inside scoop.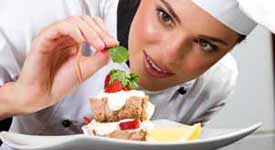 Chef Qualifications
Chef qualifications can change from restaurant to restaurant. Here are some useful links to get started.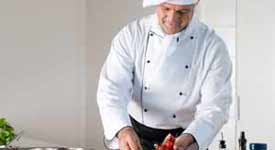 Chef Career Industry Analysis
The chef industry is always on the lookout for innovative chefs and cooks. Use these links to gain an edge on the competition.