Working from home is a convenient, comfortable, and legitimate way to earn a living. Are you ready to learn about cool work from home jobs that pay you to work from the comfort of home? We know you do!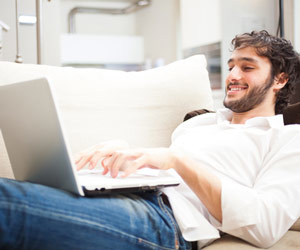 The world is more connected than ever before. Technology has totally changed the way we live our lives and it's an amazing opportunity for a driven, motivated, and determined individual to work from the comfort of home.
How To Search For Jobs From The Comfort Of Your Couch
Working from home is appealing for a wide variety of reasons. It allows you to set your own schedule, eliminate the commute, ditch the office politics, wear whatever you want, spend more time with the family, and find the optimal work life balance for you. The only thing to remember is that just because you're at home, it doesn't mean you don't have a job to do. Treat a work from home job like a real 9 to 5 job and you'll be successful in this work arrangement.
Let's take a look at a handful of cool jobs that allow you to work from the comfort of home:
Customer Service Representative
With a bit of research and smart job search tactics, you'll realize that there are plenty of totally legit jobs that you can do from the comfort of your couch. If you want to learn more about work from home jobs, please visit JobMonkey's Work From Home Industry Guide where you can learn the pros and cons of this growing niche of the working world.
What Type Of Work Do Freelancers Do?
Life's too short to be stuck behind a desk in an office. It's time to take charge of your life. Are you ready to find a work at home opportunity that allows you to have the work life balance that you've been craving? Make a change today.
See Also: