Hospitality and Retail Wine Jobs
Do you enjoy interaction with people and with your product- wine? If so, a hospitality and retail wine job in the wine industry may work best for you.
Starting with the position of tasting room manager, this position requires a likeable personality but a firm leader.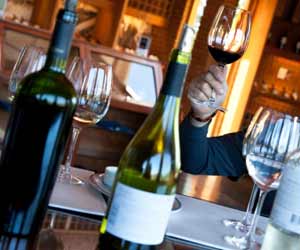 As tasting room manager, you would be in charge of hiring, training and supervising the tasting room staff. Further, it would be your responsibility to monitor the tasting room goals and to devise strategies to exceed those goals. Although you would be conducting tours, it is more important that you properly train your staff to carry out these tours.
The requirements to be a tasting room manager are varied for education. Some wineries will want a Bachelor's degree in business or another related field, but some would rather just see the years of experience. Further, they will be looking for someone with great customer service experience, strong computer skills, a working knowledge of wine, and strong leadership skills. This position was reported by WineBusiness.com to average a salary of $49,500 in addition to a benefits package.
— View Wine Industry Job Postings —
A fantastic way to get your start in the wine industry is as a tasting room associate. In this position the duties and responsibilities would include conducting tours for groups up to 50 people, conducting tasting for large groups, an ability to display and convey knowledge of wine, and assisting with customer purchases of wine. WineBusiness.com states an average salary of $24,000-$30,000; however, this usually comes with big bonus structures which can boost the overall income greatly. The requirements for this entry level position are the ability to speak with confidence and accuracy in front of large groups, a passion for wine and customer service, and energetic and professional qualities to represent the wine brand.
Although a similar job to a tasting room manager, the position of wine club manager focuses more on developing an actual wine club for the winery. This manager would be in charge of marketing for that club, getting new members, and planning events for the club. The requirements are typically a Bachelor's degree, superior event planning skills, and experience in a similar field. The average salary according to WineBusiness.com for this position averages to about $50,000 per year.
Although most opportunities are similar to a tasting room associate, some positions do exist within tour groups as a wine tour guide. As a wine tour guide, you would get to travel with your group all over the wine area you were covering. If you like to travel and truly enjoy meeting new people, this may be a career for you to consider. Conducting wine tours requires a great deal of expertise on the specific wineries and area you are touring…as well as acceptance for the low pay it will typically offer.
One other type of position is referred to as a sommelier, or a wine expert that typically exists in a fine dining restaurant. While others can use this title, the job description for one in a restaurant includes the upkeep of the wine collection in the cellar as well as giving customers recommendations on different wines to choose with their meal. The pay will vary by restaurant, but truly this person must enjoy what they do. To become a sommelier, generally one must attend a school and get certified.