Catering Jobs for Cooks and Chefs
The catering offers a different side to cooking than you would find working in a conventional restaurant kitchen or hotel. You are often expected to prepare food in make shift kitchens in various function venues, and even outside which can be a challenge for many chefs. If you enjoy a challenge however, working at a catering company, or opening your own catering company is a great idea. You have to also be prepared for working very hard and creating the same meals at the same time for functions like weddings, conferences, birthdays and other events. The chefs in the catering are basically the same for restaurant and hotel chefs, but you will also need to assist each other when things get stressful and chaotic in the kitchen. You have to have an impeccable sense of timing, because you will need to have everything prepared for many guests just before they need to be served, and not let it stand too long.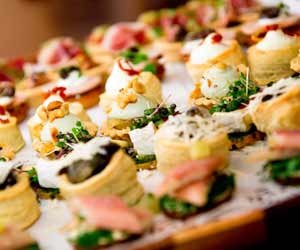 Catering management will need to be one of things you are good at and understand if you are going to work in or open your own catering company. The catering management will involve working with event planners and wedding coordinators, dealing with clients and function venues, managing the chefs, ordering and buying ingredients, keeping the equipment and tools maintained, and setting up stations at various venues. If you are a head chef looking for catering jobs, you will find some of the best paying ones at the top catering companies that deal with weddings and on film sets. You will also get great experience working on a film set if you are a sous chef, or food preparation worker.
The catering industry offers executive chef jobs that are interesting and varied and allows you to create many unique and different kinds of foods. You can always try new things and propose unique ideas to clients and most of the time, people are interested to try something unique. The pastry chef in any catering company is always revered, because to end of any party you will undoubtedly want cake or a dessert that is decadent and exciting. You should be able to create gorgeous wedding cakes and delectable desserts fit for a wedding, birthday or office party. For the pastry chef, many of the desserts will be created before the actual event and the plating of the dessert is the majority of what happens on the day. Mousses, ice creams, tartlets, crème caramels and bakes are done the day before or on the morning of the function where possible.
The catering industry is a tough place to be for a chef, but if you love the party vibe and can work well under pressure to replicate a stunning meal a few hundred times, then catering jobs are just what you should be looking at. You can find executive chef jobs or head chef jobs, work as a sous chef, pastry chef, food preparation worker, or assistant chef. Many catering companies are privately owned, but some venues have their own catering for functions and events.
RELATED – Many caterers are entrepreneurs and don't have an office per se. Learn about working from home in a separate section of JobMonkey.
Where you have a set venue and kitchen, there will normally be far more catering jobs available, whereas in private catering services where you might have to cook outside or in other venues without a full kitchen, you will have to make use of only a few chefs, who will have to make all the food and be able to do more than one job at a time. The catering management should be able to also cook and the executive chef jobs will require that you know how to be a pastry chef, sous chef, server, food preparation worker and even serve beverages. Getting jobs in catering is a great way to get more experience and learn about all the cooking jobs that you can get.