Qualifications to become a Chef or Cook and Where to Study
There are a number of chef qualifications that you need before you can get a job in any restaurant, pub, hotel, on a cruise ship, or at a retail outlet. Being a chef in the hospitality industry is a big responsibility and to learn to cook is not just about being good at making food.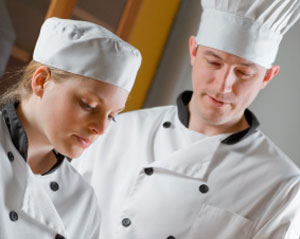 Part of chef training at a cooking school will teach you how to present food, use different techniques and create unique and delicious meals from scratch, eventually leading you to go out and create your own recipes.
All the chef jobs you can apply for will ask you for your chef qualifications. So, to learn how to become a chef, you will have to apply to study at catering schools.
Culinary schools, cooking schools, chef schools and catering schools are all terms you can look up to get a list of the best schools and colleges that will teach you how to become a chef. Once you have been accepted at a food college you will be taught the following aspects that will teach you how to become a chef, and also manage a business in catering one day: Management, finances and accounting, running a restaurant or kitchen, the culinary tools, cooking, stock aspects, and personnel management.
Some colleges and catering schools will teach all the aspects of becoming a chef including head chef or chef de cuisine, sous chef, and chef de partie or line chef. Depending on what kind of chef or cook you want to be, you will have to specialize in other areas. The chef de cuisine or head cook will specialize in every aspect of the kitchen. When you want to learn to cook and become a chef, you will have to also learn about the other parts of the kitchen including being a dishwasher, kitchen assistant and food preparer. This will help you understand the functions of the kitchen and give you adequate chef training.
One of the best ways to learn to cook and to become a good chef is to get internships at a restaurant or hotel while you are doing your chef training.
The experience and training that you will get in the hospitality industry this way is priceless, and you can even secure yourself a permanent position once you have graduated. Some catering schools also present a dinner every year to show the progress of the students and give them some first-hand experience in the restaurant or hotel atmosphere, as they run their own kitchen and stations and prepare all the food for the whole evening.
There are hundreds of culinary schools that you can attend to receive your diploma or degree in the culinary arts.
You can also choose a specialty and get a diploma, associate's degree or bachelor's degree in baking and pastry arts, culinary arts, restaurant management or hospitality management. Just about every cooking school offers all of these courses and you can find tons of culinary schools near you, just by checking on the internet.
Once you have graduated, you will need to use your skills to get a job in the area of the hospitality industry that you enjoy. Bear in mind that you might need to start with a lower paying jobs that is not exactly a chef job, but if you show determination you can work your way up in the kitchen quite quickly. Many companies and hotel groups also offer chef apprenticeships which are worth looking into if you cannot afford to attend chef schools. These will ensure that you get into the hospitality industry while studying at the same time to improve your talents.