Becoming a Personal Chef
In the world of celebrities, politics and sports, fame and fortune have encouraged many new job opportunities, one of which is to offer your talented services as a personal chef. To be a private chef for a celebrity is not easy to get into, but once you do establish yourself as a gourmet chef to the stars, you will be a huge success and get plenty of rewards.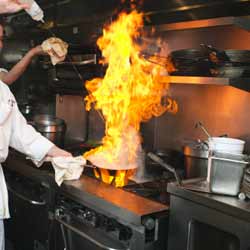 One of the greatest perks is that you do not have to stress out preparing hundreds of identical meals every day and work excessively long hours. Working as a private cook to a family, you can concentrate on your chef skills and create stunning meals each day. You also have the benefit of working in a private kitchen where you can feel more at home and creative. With these in mind, yet another plus is of course the pay.
If you are lucky enough to be noticed by an actor, TV star, politician or sports hero to work for them, you will get paid very well for your services. Depending on the celebrity, you may even get to hire your own kitchen staff, and manage the cuisine for parties and other private functions, making you a master chef, private cook, catering manager, and more.
The life of a personal chef is a less stressful one, that is granted, but you do have the added pressure of impressing your boss every day with new, interesting and exciting meals. Sometimes in a personal chef job, your celebrity boss will require certain meals from you that are specific, with certain different ingredients and portions that you will have to follow exactly. If you love being creative with your cooking and you have good ideas for different meals every day, you will do well as a personal chef.
Only the best of the best become private cooks for celebrities, so if you dream of having this life one day, you must work not only on your cooking skills and chef talents, but you will have to have a good personality to work one on one for a famous person. To get this job you will usually need to be a master chef or executive chef, so working your way up in the restaurant or hotel business is a must. Most of the time a celebrity will notice you and your food by visiting the restaurant where you work or hotel, but it can also be at an event where your catering company is working. There are lots of ways you can get a job as a personal chef or private cook, but the best chance you have of being noticed is to work in the areas where most of the celebrities hang out.
There is a new appreciation for professional personal chefs and you can also get into this career by working to market yourself as a business to all potential clients. You can find out everything you need to know from the American Personal and Private Chef Institute and Association. Here you will receive training and support if you want to start out your chef career as personal chef or private cook and become a gourmet chef in a private kitchen, instead of working long, unpredictable hours in someone else's.
The difference between a private cook and a personal chef is this: the private chef works for a single-family or individual full time and sometimes lives in, but not always. A personal chef cooks for various clients, shopping for the groceries and doing the cooking in the client's kitchen. Generally, the personal chef produces 2 weeks worth of dinners in one 5 – 8 hour cook day and leaves the menu items in the freezer for the client to reheat at their leisure. The amount of money you can earn as a personal gourmet chef and a private cook varies depending on your clients, but the average wage is anywhere between $200 and $500 a day. Your clients will not only include celebrities, but also people will special dietary requirements, senior citizens, and single parent families.