Where To Find Chef and Cooking Employment
When you embark on a chef career, you may only think of working in a hotel or restaurant at first.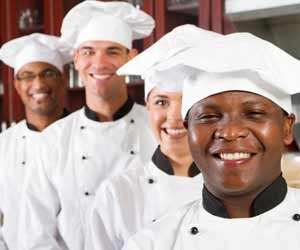 The truth is that there are tons of other chef jobs you can get and if you really work hard and are talented enough, you can truly put these talents to good use and make a lot of money, while enjoying success as a top chef. Starting out, you may find that a trainee chef will get the most chances at a grill house or restaurant, or even a pub, which is a great place to start. Soon, once you have learned enough to make your way up to being master chef, you can branch out and start making your chef career in other areas. Here are just some of the ideas of places where you can get exciting and interesting chef jobs or cook jobs.
Cruise Line Chef Jobs: One of the best ways to see the world and make money at the same time, is to secure a job as a trainee chef or chef on a cruise liner. You can enjoy a hotel type working environment and have some spare time to enjoy the cruise and see the sights. You will work in shifts, and you must be good at working in a relatively small space and as quickly as possible.

Personal Chef: If you have a special skill, you will soon be noticed and to be noticed by a celebrity of sorts will be great for you. You can get chef jobs as a personal chef making meals for this person or family. You will have to be good with people to do this job and really enjoy making family meals that are healthy and enjoyable. Sometimes you will be expected to cook for parties and you must be able to work under pressure, with other chefs when needed, and on your own at other times.

TV Chef Jobs: Some master chefs love the limelight and can really boost their chef career by agreeing to do a TV series on cooking or a cooking segment on another TV show. A TV chef is a big step from the ordinary chef career. You have to contend with lights and cameras, but you have the chance to make great food that you love taking as much time as you need, if the show is recorded. For a live TV show, like Martha Steward for example, you will have to work fast and live, have a great personality for the camera and be able to produce many small portions as tasters for the audience. If you have a good voice and personality for TV, then to become a TV chef is the obvious place to work if you have enough experience and are already a head chef.

Civil Service Cooking Jobs: If you want to work in more of a service area, you can get chef jobs and cook jobs working for schools, colleges and universities as the director of food, catering manager, or head cook. You will be in charge of making the food for the faculty and students at the cafeteria. Many high-end schools actually employ a catering staff to ensure the good health of the teachers and students. Hospitals also employ chefs and catering staff to make all the patient's meals and some hospitals offer a café or restaurant on their premises where doctors and patients as well as visitors can have meals. You will easily find trainee chef positions doing this kind of work. Some companies also hire chefs and assistant chefs for their private meal preparation and cafeteria, while some small prisons, detention centers, and rehab facilities also require permanent catering staff offering various chef jobs and cook jobs.
These are just some of the jobs you can get as a trainee chef, commis chef, sous chef, or head chef if you want to broaden your horizons in the food preparation industry. It will also help you to gain more experiences for your chef career so that you can become a better chef and teacher to future generations of chefs and cooks.