Types of Chef Jobs in the Culinary Industry
To be a chef is a job that not many people dream about, but if you have the talent to create great tasting meals and a flair for offering people food that is amazing, then you can easily become a top chef, and don the chef hats and chef uniforms proudly. There is a slightly different chef job description for each kind of chef, but we are going to start out with the general basics for being a chef or cook. This section also discusses culinary training opportunities often required by employers.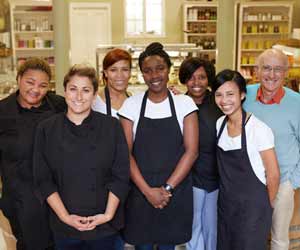 First, chefs are the creators and makers of food. You will have to invent chef recipes that are outstanding and that take food to an entirely new level. Your food has to be delicious enough and unique enough to stand out against food that you could make at home. It must use interesting combinations of ingredients and be made in just the right way, as well as presented expertly. At a chef school you will learn about how to plate food to make it look wonderful.
The chef job description includes having to manage a kitchen and staff of other chefs and food preparers. Depending on what kind of chef job you have, you will have a different responsibility in the kitchen. The goal however is to work with everyone else as a team. Cooking is the main job of any chef, but with added jobs of managing your kitchen so that it runs smoothly. If you are not interested in this stressful side of being a chef, you can opt to become a personal chef, making food for specific people and working mainly on your own. This can, for some chefs, be a far more rewarding side of cooking.
There are certain requirements to become a chef, the educational side to be dealt with later on, but for now, there are some personality traits that will be looked at if you are considering a career in the hospitality industry. First of all, you need to be creative with food. Not only this, but you need to be creative with food under the pressures of a busy kitchen, to produce food that is glorious. You will need to be calm under pressure and be able to handle problems, disruptions, mishaps, and other chefs like a professional. You need to know your kitchen and the rules of where you are working and be able to follow them so that everyone remains happy and pleasant.
One of the requirements to become a chef is to have a thick skin. You might be told that your food is not good enough, or that you cannot cook, but you have to be strong and believe in yourself, so that your chef hats and chef uniforms can be worn with confidence. It is this confidence that will determine your fate and future in the food industry, and whether you work at a food hall, pub, or 5-star hotel.
There are many pros and cons to being a chef, but one of the perks is a great chef salary. Your chef salary will obviously differ for each position you look at, but overall a chef leads a great life. If you can manage to become a sought-after personal chef for executives, the elite, and celebrities, then you will really have it made, and your chef recipes will become famous. You can bring out your own book, TV show, and even a line of chef hats and chef uniforms, or cookware. Cooking jobs will allow you to be creative and run a business, and there are plenty of opportunities to make more from this career than first meets the eye.