What Chef Salary or Chef Wages Can You Expect?
Working as a chef, you will find that different places of work will pay different wages for all the chef jobs available. You can earn a very good salary if you work at a luxury hotel for instance, and a basic wage if you get a job at a casual café or small pub.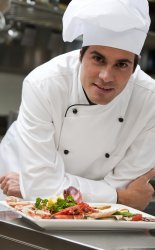 With your extensive chef training, you must apply for the best possible job you can, and always remember that chef jobs allow for promotion, so that eventually you can work your way up to the executive chef or head chef positions which pays the most. Your salary can be paid hourly or monthly and you will also be eligible for certain benefits depending on where you work such a 401(K) retirement plan, health benefits, paid vacations, life insurance, and more.
Restaurants and Hotels: In a normal restaurant environment the executive chef has the opportunity to earn anywhere from $40,000 upwards, and in a five-star luxury environment you can earn up to $100,000 annually. The sous chef can earn between $60,000 and $80,000 annually, while the chef de partie can earn from $35,000 to $70,000 per year. The demi chef in a restaurant or hotel resort can earn chef wages in the region of $30,000 to $45,000. A commis chef makes a yearly chef salary of about $20,000 to $30,000. The chef salary for a pastry chef is around $4500 per month. Assistant cooks can earn various chef wages as do the food preparers for a hotel or restaurant. As an assistant cook you are looking in the region of $20,000 per year and food preparers can earn from $8,000 to $16,000 annually.
In the hotel and restaurant industry there is a lot of room for growth and plenty of opportunities to take advantage of. You will easily be able to work up to being a master chef in a few years. Once you have reached this position, you can even think about opening your own restaurant and make your own chef salary.
Catering and Retail: In the catering industry, you can expect to earn an average chef salary of $35,000 to $75,000 per year. The extreme low catering salary is around $22,000 while the high salary for an urban caterer with a high profile and elite clientele can reach $200,000. This all depends on the type of catering business, the areas you operate in, the clients you market towards, and the size of the catering company. The executive chef earns about $45,000 per year, while the sous chef makes about $35,000. The commis chef in a catering company can earn around $27,000 per year, and the chef de partie earns an average of $30,000. The demi chef earns between $25,000 and $30,000 annual chef salary. Assistant cooks make around $22,000 while food preparers also earn in this region.
In the catering business or retail industry, you will get great experience and this environment will help you greatly if you want to open your own business in catering or hospitality one day. Catering and retail also allows chefs to work in all kinds of locations for weddings, events and private functions which is great fun.
Social Service and Public Sector Positions: In the public service sector you have the chance to choose from a large number of chef jobs that will see you working in all kinds of places like fire stations, community centers, retirement villages, schools, hospitals, prisons, rehabilitation facilities, detention centers, and more. You can work at these public places as an executive or head chef, head cook, assistant cooks, kitchen manager, head caterer, catering manager and food preparers. There are not as many levels as in the restaurant and hotel industry or in catering, but there are lots of opportunities available and places to work. There are various chef wages that you can earn, but here are just some of the public sector salaries for chefs and cooks that you can get. Cooks at schools can earn from $10,000 – $22,000 and at a hospital, clinic, doctor's rooms and hospices, you can earn from $22,000 to $27,000 on average.
At a retirement center you can work as a cook making around $12 per hour, while certain cafeteria positions in council buildings, auction houses, museums, and fire departments among others will offer about $24,000. In the correctional facilities department you can work as a correctional cook or assistant cook, catering and kitchen manager earning between $2,000 and $4,000 per month. Another public service job you can get in the cooking industry is in the military working for the air force, navy, or army. Here you can earn a nice sum of money up to $90,000 per year.
While some of the public or civil service jobs do pay less than at hotels and restaurants, it is a very good place to start your career and if you need to gain more experience as a cook or assistant chef, this is one of the best ways to do so. It is also perfect if you want to work for the government and serve your country, but still get experience in your passion and field of expertise.
Fast Food Industry: Working in fast food services may only appeal to some chefs and most of the time a short-order cook and diner cook, does not need to have as much experience as a gourmet chef does. A short-order cook will earn wages relative to where they work and usually by the hour. You can work as a short-order cook in the fast food industry in a diner, fast food outlet, grills, coffee shops, cafes, bistros, drive through food establishments, or take away restaurants. The chef salary you earn will also depend on your job description and the area in which you work. Some short-order cooks are also kitchen managers or general managers and will earn more than just a line cook. The average for a short-order cook to earn in the medium category is $9 per hour. This is according to the U.S. Bureau of Labor.
In fast food, besides the short-order cook, you can also get a line cook, grill cook and other kitchen staff positions. The following are cook salaries based on the average wages earned yearly in Seattle, Washington. A short-order cook earns $24,000, the line cook makes $22,000, and the grill cook earns about $19,000. In the fast food or food service industry you can also get a jobs as a kitchen manager or food service manager which will involve accounting, marketing and customers relations as well as well as cooking experience, enabling you to earn an excellent salary of $30,000 to $50,000 annually.
Track the latest chef pay information here: