Personal Shopper Jobs
Shopping is a billion dollar industry and an absolute necessity in everyday life. Think about it. You shop all the time. Maybe you shop for new hip clothes, a new snowboard, a favorite cereal, or a special gadget for your father's Christmas present. Shopping is part of life, but it can also be a career – if you're a personal shopper.
You may wonder what a personal shopper actually does. Well, it all depends on where you work. Many personal shoppers are self-employed, but others work for large corporations or department stores.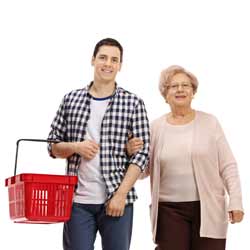 You may find yourself working for busy families, super-rich celebrities, senior citizens, department stores, corporate executives, image consulting agencies, or event planning companies. The market you work for, will dictate where you shop.
Self employed personal shoppers usually work with individuals who don't have time to shop. Clientele could include celebrities who want to avoid the paparazzi, working parents who need to buy basics like dog food, senior citizens who can't go to the store to buy light bulbs, or a corporate executive who needs to buy a Playstation for a child's birthday. All of these people need a personal shopper to live the life they desire.
Often personal shopping jobs are available full time with department stores, image consulting agencies, or event planning corporations. Department stores, like Bloomingdales or Nordstrom's, hire personal shoppers to help customize the shopping experience for clients. Get information about working for Nordstrom's on JobMonkey. Personal shoppers notify clients of new arrivals, show them popular trends, and help put together an ideal wardrobe. Image consulting agencies help people do whole lifestyle makeovers – they may shop for things from business suits to flat screen TVs. Event planning corporations need help putting together goodie-baskets for different events. It's the extra personal touch of a personal shopper that truly aids clients in the shopping experience.
Personal shoppers meet customers over the phone, email, or by appointment and help them plan their shopping needs. Most of the time they are indoors, doing what they love…shopping. Usually personal shoppers have worked in retail before they become a personal shopper, but there are no training or educational requirements. As long as you can shop, you can choose this career path. What you do need is a strong feel of your customer's taste and a solid entrepreneurial sense. A personal shopper has to be good with people to build a strong customer base.
Personal shoppers get paid quite well for indulging in their shopping habit. Commonly personal shoppers charge an hourly fee that usually starts at $20 plus commission on products purchased. Annually personal shoppers can expect to earn $30,000 to $60,000. The very best personal shoppers may even reach $100,000 per year.
If you end up working for a corporation or department store, you may qualify for benefits like health insurance.
If you're interested in a career as a personal shopper, try training or interning with a professional shopper, marketing yourself to families or senior citizens, or applying for a job at a department store. All it takes to start is a small customer base and a good reputation.
A job as a personal shopper is great, but only if you love to shop. Having a vast knowledge of products, trends, fashion, and services is what will make you stand out. Knowing what your customers want and need is your key to success. It may sound silly, but shopping is the easy part.
Quick Facts About Personal Shopping
Job Title: Personal Shopper /Image Consultant
Office: Stores
Description: Communicate with customers to help them plan their shopping needs then help them shop for their ideal products
Certifications/Education: No training or education requirements. Retail experience is necessary.
Necessary Skills: Communications, Selling, and Customer Service
Potential Employers: Retail Stores (Nordstrom's, Bloomingdales), Corporations, Event Planners, Families, and Celebrities
Pay: $30,000 to $60,000 per year, depending on hours worked, clientele and location
Helpful Personal Shopper Employment Links:
Search Personal Shopper Jobs on JobMonkey
Get Paid to Shop: Be A Personal Shopper for Corporate America By: Emily S. Lumpkin
Entrepreneur.com Guide to Being a Personal Shopper
Association of Image Consultants International