Babysitter Jobs
According to GapMinder, there are 1.9 billion children in the world. That's approximately 27% of the world's population. Those children need constant supervision, so when the parents of those children need a bit of free time, they call in a babysitter.
Babysitters take care of children when the child's parents are busy. They are basically responsible authority figures that are also pretty entertaining. Babysitters perform a similar role as nannies and au pairs, except they work at random times. Babysitters may fill in for a few hours in the evening, cover a long a weekend, or be on call for unexpected events.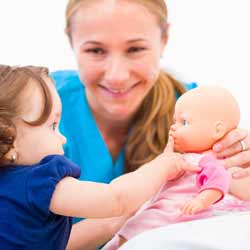 Babysitting is one of the best temporary jobs available because it is very flexible. People of all ages can find babysitting jobs. It's a very popular job option for teenagers. Babysitters are completely responsible for the children's safety. They must also deal with medical, behavioral, and household emergencies. This requires a lot of trust and responsibility.
Since every babysitting gig is different, it's important to be ready for anything. Babysitters may plan meals, bath children, dress kids, provide transportation, clean house, play games, cook meals, do laundry, help with homework, tidy rooms, be a role model, do arts and crafts, supervise kids, care for pets, or watch television. They do some or all of these things in the family's home, aka their "office."
Babysitting jobs aren't for everyone. To be a successful babysitter, you need to have a unique personality. Are you warm, caring, sharing, accountable, friendly, kind, understanding, timely, adaptable, flexible, safe, competent, trustworthy, fun, and responsible? Do children like you? Do you like children? You don't have to be Mary Poppins, but you'll need to be all of these things to be a likable babysitter.
Parents often look for babysitters who have experience and unique skills like driving or tutoring. They also like babysitters who have first aid certifications. Taking an America Red Cross Babysitting Course or an online SafeSitter course is a huge bonus for an aspiring babysitter.
Parents are very careful about who they leave their children with. To become a babysitter, you will need outstanding references who will verify that you're a model citizen with a caring personality. Usually, parents will interview a babysitter and give them a short test run to ensure the kids are happy and safe.
Babysitters can find work through advertising, word of mouth, or through babysitting agencies. They need to be available at random times or at the very last minute so that parents can run off for the weekend or have a date night. It's important to be flexible.
One challenging thing about being a babysitter is determining your pay rate. Pay can be as little as $4 to $5 per hour or as much as $25 per hour. Most babysitters charge a fee or increase the hourly rate for each additional child they take care of. It's not uncommon to charge more for younger children. Some charge double on holidays, like New Years Eve.
Ultimately, pay depends on the age of the children, experience, skill sets, demand, and geographic location. It's up to you to determine your own hourly rate. If you need help, check out this babysitting rate calculator.
Taking care of children is a rewarding job. Babysitter jobs aren't necessarily a career move, but they are a brilliant way to earn a bit of extra money. Are you ready to find a babysitting job?
Quick Facts About Babysitter Jobs
Job Title: Babysitter
Office: Other people's homes
Description: Take care of people's children
Certifications/Education: First aid recommended, References
Necessary Skills: Caring, Responsible, Trustworthy, Flexible
Potential Employers: Families
Pay: Depends on Location, $13 per hour average
Helpful Babysitter Employment Links: